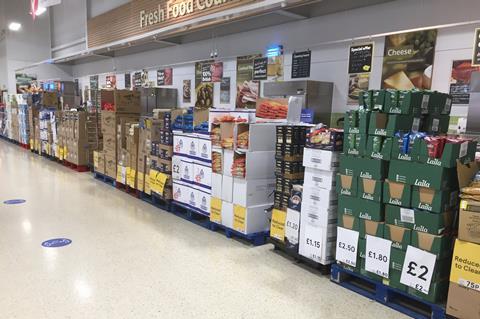 Tesco's "naïve" and "incompetent" purchasing during lockdown has left it running clearance sales on excess stocks of pasta, cooking oils and toilet paper, according to suppliers.
Products that came under most pressure from shoppers in March are those now being cleared, leading to suggestions Tesco overbought when the demand surge set in.
"They obviously overreacted," said one supplier.
"Even when we were in the peak of the panic buying, we all knew it wasn't going to carry on forever. So to buy on the basis that that level of sales would continue was I think very, very naïve."
Although Tesco is not running clearances online – a move the retailer said was typical whenever products were delisted – The Grocer has confirmed swathes of stock are being shifted in superstores across the UK.
Stores across London, Yorkshire and Plymouth were all found to be running 'reduced to clear' sales across numerous product lines.
But Tesco rejected claims it had overstocked, arguing it was simply reinstalling established lines now suppliers could meet demand. When the demand surge set in during March, own-label supply came under immense pressure and struggled to keep up.
Supermarkets turned to new products to ensure continuity of supply, and it these lines now widely seen under clearance.
But with own-label products now replenishing shelves again, the need for alternative brands has been reduced.