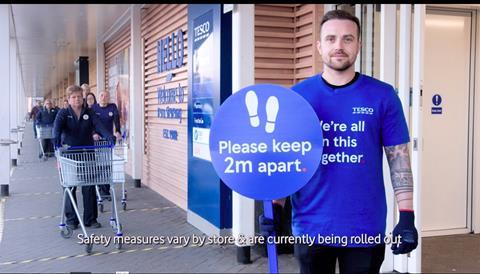 Tesco has launched a major new media campaign to try to persuade shoppers to obey new social distancing measures, amid fears many customers are flouting the rules despite a range of measures by supermarkets.

Tesco also unveiled new strict limits to the number of customers allowed in its stores, varying according to size.

For example, Express stores of less than 2,000 feet will only be allowed 10 customers at a time.

Larger Express stores will be allowed up to 15, while Metro and Jack's stores will have limits ranging from 50 to 100. Extra stores have had maximums of 400 customers imposed.

Staff have been instructed to count customers entering stores.

Tesco said its new ad, headlined 'Keeping you safe', was shot overnight on Wednesday in its Stevenage Extra store.

It will begin on social media and TV during high-ratings programmes such as Channel 4's Gogglebox and ITV's screening of Star Wars: The Force Awakens.

The ad flags up new measures including car park marshals, signs communicating social distancing advice and clear queue markers to encourage customers to stand two metres apart.

"We felt it was important to help customers understand the changes we've made in our stores to keep them safe as they shop. We hope they'll find it helpful," said Tesco CEO Dave Lewis.

"Our aim is to do everything we can to protect our colleagues and customers at this difficult time and ensure everyone has safe access to the food and essentials they need."

Meanwhile, a cap of 80 has been introduced on the number of items in an online order amid a huge surge in demand.

Before the outbreak, the average Tesco customer ordered less than 60 items but it has shot up to more than 100.

Tesco said the new limit would allow "significantly" more delivery slots in the coming weeks.