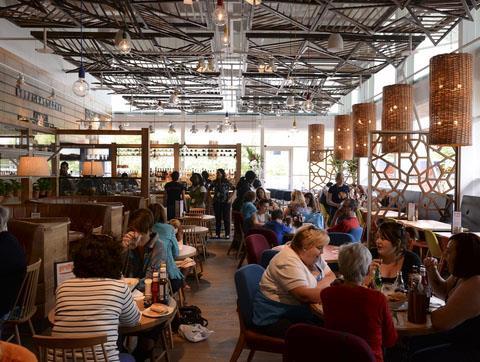 Tesco is to open more than 100 Giraffe, Decks and Harris+Hoole restaurants and coffee shops as part of plans to accelerate its UK store turnaround programme, it said today.
The retailer also revealed plans to increase the number of gyms on mezzanine floors of its large Extra stores, as it seeks to create destination locations and dramatically shrink the amount of general merchandise retail space.
Read this: Tesco promises more price cuts as profits drop 6%
To date the retailer has opened just four Giraffe restaurants in stores. It has 10 Harris+Hoole outlets either in or next to Tesco stores, and three Decks restaurants.
"We are going faster with our work to transform our Extra stores to create more compelling destinations and will complete more than 50 in the first half alone," said CEO Philip Clarke.
As well as speeding up the rollout of restaurants, Tesco said it would bring 140 'Next Generation' F&F clothing departments to stores, a big increase on the 104 rolled out in the last year.
But Clarke said Tesco would also increase the rate at which it was offloading space to other retailers and leisure companies.
This year he said five stores would be reduced by around 20,000 sq ft, as the retailer looks to increase its tie-ups with other companies including discount department store the Original Factory Shop and children's soft-play centre Funky Monkeys. The latter has outlets at Tesco stores in Newport and Stockton and has opened an 'Xercise4Less' gym on the mezzanine floor in Stockton.
Tesco said it planned to complete another five similar projects in 2014/15. Meanwhile, as many as 50-100 large stores could be set to shrink in the next few years, it added.