How will shareholders react to reduced profit margin targets? Clarke avoided a repeat of the dreaded profit warning he was forced to make to The City in January 2012, the first Tesco had issued in 20 years. But some interpret this week's presentation as a veiled one nonetheless.
After months of speculation Tesco confirmed it was abandoning the profit margin target of 5.2% presented to the City two years ago. "We need space to operate," says chief financial officer Laurie McIlwee. "We don't want to be backed into a corner."
The relaxed margin will finance the £200m a year earmarked for price cuts - unlike the 2011 Big Price Drop, funded by what many regard was a misguided raid on popular Clubcard rewards.
"In essence we sense that Tesco is stepping back in seeking to go forward," is how Shore Capital analyst Clive Black sums up this week's strategy announcements. And though the share price fell 2.7% to 326p, most analysts at this week's event seem to think Philip Clarke and his team need more time to execute their tweaked recovery plan.
New strategy
£200m a year to "sharpen" prices on everyday food items such as carrots and cucumbers
reduction in group capex to maximum of £2.5bn for at least three years
almost doubling UK Extra revamps to 110 in 2014
UK space race down from 1.5m sq ft in 2013/14 to 700,000 sq ft in 2014/15
abandoning the profit margin target of 5.2%
launch of new digital Clubcard in 2014, plus Fuel Save rewards
promise of one hour delivery slots for any item ordered online (no timeframe supplied)
Source: Tesco Winning in the New Era of Retail presentation
Apart from the £200m price investment how has it been tweaked? In October Clarke raised eyebrows when he told The Grocer that 2014 would be "the year of the hypermarket". Some analysts described as "ambitious" his plans to open one new revamped Extra a week. Now Tesco has said it will make that two. Trials of fully revamped Extras in Watford, Purley and Coventry are said by sources at Tesco to have brought sales uplifts of around three times that of the average 3% to 5% seen in more low-key refreshes of its supermarkets and Extras since 2011's upgrades began. But Clarke admits the scale of that step change in quality needs to be ramped up massively and is now promising not only to have all 300 remaining large stores not yet revamped completed by 2017 but give them all the Watford treatment.
That doesnt sound cheap? Indeed. The prototypes all come at a much higher price tag than the average £1.6m cost of a refresh, meaning the Extra programme will cost way more than the £200m being thrown at prices.
Isn't it counter-intuitive to spend big on the Extras? Figures released by Tesco this week show how the performance of its out-of-fashion big boxes are acting as a weight around its neck, yet so much is pinned on them getting sales going back in the right direction. Over Christmas the 50,000 sq ft-plus stores, over half of its store space, saw sales down 3.1% year on year. That compares terribly with Express like-for-likes of +1% and even more with online sales (up 10%).
Clarke admits that convenience shopping, the shift to online and high fuel costs have piled even more pressure on the format. "We need to make these large stores places worth travelling to," he says. He does not rule out store closures in the much longer term. "Who can say what the situation will be in 20 years?" he adds. "But at the moment I don't think we need to close any stores."
Shore Capital analyst Clive Black says there is "enormous pressure" on the refreshment programme to work, but warns that efforts to date have failed to stop slides in share and sales.
To make matters worse, Tesco admits that compared with Asda it has twice the proportion of space in its big stores committed to consumer electronics and half as much allocated to clothing - bang against trend.
"In the coming quarters, Tesco will be increasing its remodelling capex, shifting some non-food selling space and rolling out a few Giraffe restaurants," says Morgan Stanley analyst Edouard Aubin. "However, it is as yet unclear how the company plans to resolve the structural issue."
Has Tesco actually quit the space race this time? Clarke claimed to have quit the space race a year ago, when it reduced annual capex from £3.8bn (in 2011/12 to £3bn for 2012/13, and pulled out of over 170 projects (new builds and extensions). But Clarke has now promised that capex will not to exceed £2.5bn a year for at least the next three financial years.

If that still seems a lot, consider that capex peaked in 2009 at £6.6bn, when Tesco was rolling out 2.5 million sq ft of new supermarket space per year. In the UK it means Tesco winding down from 1.5 million sq ft of new space in 2013/14 to 700,000 sq ft in 2014/15, its lowest in a decade.

"We believe the market will see this as a step in the right direction," says Aubin, although he adds: "Assuming no change to Tesco's competitors' expansion plans, we model total UK selling space growth at +3.4% in 2014 and +3.3% in 2015, still far higher than for any other European market."
Can Tesco press home the advantage of its lead in multi-channel? Tesco announced this week it racked up grocery dotcom sales of £2.5bn and EBIT of £127m in 2013/14 (online grocery sales up 10% over Christmas), which according to Clive Black "puts Ocado to shame", let alone others like Morrisons .
However, Tesco admits it has still only scraped the surface of the potential gains from its online powerhouse. Just 4% of Tesco consumers, according to a survey of two million Tesco Clubcard holders in 2013/14, used all three potential services - in-store, online grocery and online general merchandise. Those that did, however, were found to spend nearly three times more than those only shopping in store.
"There's clearly enormous headroom," says Robin Terrell, group multichannel director, who joined Tesco exactly a year ago from House of Fraser, having previously worked with online giant Amazon.
Terrell says this will include "massive expansion" of its 232 grocery click and collect locations and one-hour delivery slots for any item, food or non-food.
The trouble is, for all its potential online -and the value locked up in its digital growth - unless it can simultaneously make those big sheds work, it will all be wasted.
Key question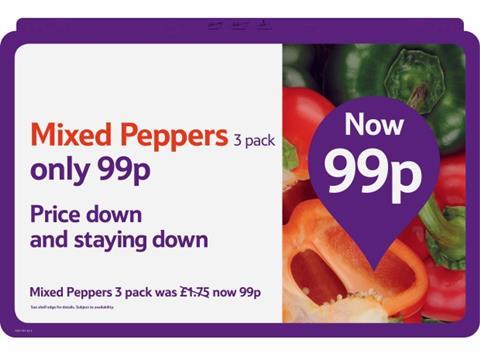 Will the £200m on lower prices turn into another 'Big Price Flop?' Clarke stopped well short of launching a fully fledged attack on the discounters . The £200m a year he says will "sharpen" - rather than slash - Tesco's prices on everyday food lines is not only going to be limited, but also brought in over time. Tesco has cut some already, including carrots (1kg down from £1 to 80p), cucumbers (49p from 65p) and peppers (99p from 1.75 for three) and is advertising the changes in a new campaign with the strap 'Down and staying down' (see above). The focus is initially on fresh food, which it fears shoppers may be going to discounters for instead. But Clarke believes it would be potentially disastrous to launch a full onslaught on them. "We think we need more stability on prices but those who move straight to low everyday pricing in a high-low market don't tend to have a track record of success," he says.
Tesco also claims, contrary to many analysts, that its Price Promise has nullified price as an issue. Clarke has, however, promised to end "frivolous promotions", promising genuine ones will stay. Like a lot of what he said, there was a sense of deja vu, this time over the ill-fated Big Price Drop initiative in September 2011, when UK CEO Richard Brasher said the £500m a year it would spend (see top) would ensure "genuine" savings. He quit months later as the move was dubbed the Big Price Flop.
Clarke was critical this week of the execution of that initiative. "We're focusing on the core lines," adds UK MD Chris Bush, who wants prices to be "stable, logical and competitive". He admits some customers have been switching to the discounters where they find "quality on certain products is almost as good and prices that bit sharper."
Image: Tim Scrivener/REX