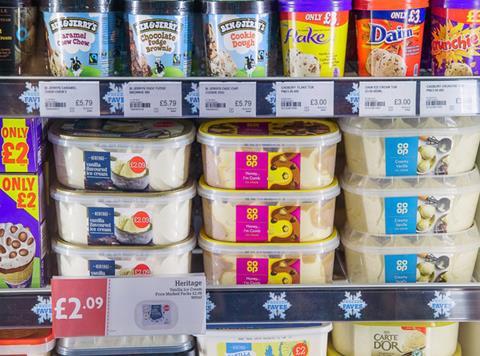 The Co-op has launched a rollout of 800 own label lines into Nisa stores this week as retailers seek to ramp up their offering to compete with multiples.

On Monday, 49 Co-op-branded products across ambient and chilled were introduced in Nisa stores, including a range of ready meals, pizzas, biscuits and crisps.

A further 350 ambient and chilled products will be available from 16 July, fully backed by a PoS campaign to help promote Nisa's partnership with The Co-op further.

The next stage of the rollout comes in the autumn, with 350 more products added to the range across chilled (on 6 September) and ambient (on 16 September).

The remaining 51 Co-op own label products across ambient, chilled and frozen categories will be available from 26 November.
Products were available on back office for pre-sale from the middle of May to allow retailers to forecast what stock they required, but Nisa's roadshow last week provided confirmation of the rollout process.

Kidderminster-based Nisa retailer Jordha Sanghera, who runs two stores in Offmore and Habberley, told The Grocer that he welcomed the new own label range as a chance to take on the multiples with an enhanced offer.

"As an independent retailer I felt that fresh was where my product could improve. With Co-op's offer now there's nothing that I can't do that Tesco Express can't do.

"It's allowed us to compete with the multiples out there and build our offer around the chilled category."

Nisa retailer Harj Dhasee, who owns a store in Mickleton, said: "It's the new evolution, offering the same or higher quality products of the top four supermarkets. Having the range, access and quality has always been difficult in the independent sector."

Dhasee added that the transition had been "exceptional", providing products within seven weeks of the Co-op completing its acquisition of Nisa. He said the Co-op had provided flexibility on what products retailers could stock.

The stores differed on whether to retain Nisa's existing own label brand Heritage. Sanghera phased out own label Heritage two weeks ago, in a move he said was designed to avoid customer confusion over two separate own label product ranges.

Meanwhile, Dhasee had continued to stock Heritage own label alongside Co-op own label, saying retailers could choose on a case by case basis whether or not to stock both own label ranges according to their proximity to Co-op stores.

"A limited number of Co-op's award-winning products hits some stores today," said a Nisa spokeswoman.

"This is part of a phased rollout that will complete towards the end of 2018. There's excitement among partners about how Co-op's range will help invigorate the Nisa wholesale proposition with a strong product offering, industry-leading levels of availability, and competitive prices."

The Co-op's £135.7m takeover of Nisa was completed on 8 May after receiving clearance from the CMA.