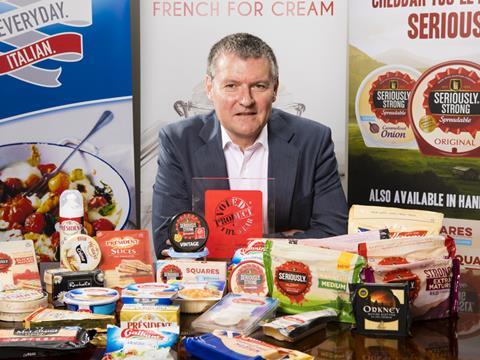 "I understand why people might feel we are opaque, but it's not an intentional characteristic," insists Lactalis McLelland boss Mark Taylor. "We just have other priorities."

It's a curious attitude for a business whose parent, Lactalis, is a £14.8bn global dairy behemoth, bigger than Arla and Müller combined.
Lactalis is home to a slew of household names such as Seriously Strong, Président, Galbani and (through a joint venture with Nestlé) yoghurt brands such as Rachel's, yet it eschews the publicity and profile of its rivals - leaving a distinct air of mystery around its operations.
Snapshot
Age : 54
Job : CEO and group MD Lactalis McLelland
Home town: Bristol
Family : Married to Angela, with two sons: Joe (13) and Angus (12); lives "a short walk" from Lactalis HQ in Reigate during the week and in Bristol at the weekend
Education : Agricultural economics HND and diploma in management studies at Seal-Hayne College, Devon, plus an MBA from the Open University, which gave a "breadth" to his formal education "that would have been difficult to obtain elsewhere"
Interests outside work : Travelling, gym, tennis and sailing. "I used to sail big boats and have now got back into it as my son loves sailing dinghies. We normally go somewhere warm, like Greece." Also "slowly improving" his French

But as the food and drink sector gears up for Brexit, and Lactalis seeks to further build its UK business, Taylor accepts the time has come to be more open.

"It's important for us to be valued advisors to our customers and to support those long-term relationships, so it's right we engage," he says from the company's unassuming UK HQ in Redhill, Surrey.

"We're the largest cheesemaker in the world and the second-largest dairy company. It's not a case of us not talking to anybody; our key partners, customers and suppliers know us and understand our strategy and focus."

Given its French ownership, Brexit is an area that will clearly have an effect on Lactalis McLelland, but Taylor believes there will be many opportunities alongside the challenges. "We now export to 83 countries, so there is a significant developing opportunity to do even more, supported by the weakness of the pound," he says. "On a group level, Lactalis is also very acquisitive, the business is ambitious, and we've already made seven acquisitions across the world this year."

Taylor, 54, is a self-confessed "dairy anorak" who boasts a 30-year career in dairy, and up until very recently milked cows at least once a year "just to remind myself what it was like". He adds: "It's good to keep in touch with the grass roots, and see the industry from the perspective of other people."

Taylor's own dairy industry journey took him from an HND in agricultural economics to joining Express Dairies in 1988 as a graduate, before ending up at Dairy Crest, where he held several senior positions over a 12-year period, including group commercial director and MD of the company's liquids division, in addition to spearheading the launch of the Milk & More delivery service.

In 2012 Taylor left the business to take on new challenges. "I ended up on a year's gardening leave but it was time I used wisely," he says as he describes a "busman's holiday", which saw him visit Dairy Partners Americas, Australia's Murray Goulburn, Danone in Paris and Saudi Arabia's Almarai.
"It's good to keep in touch with the grass roots, and see the industry from the perspective of other people."
He also did a lot of work in Ireland for various co-ops, and a fair bit of M&A consultancy. And, to cap off an eventful year, he was invited to consult on the development of UK agricultural strategy by then Defra secretary Owen Paterson.

"Talking to the CEOs and or senior leaders in these businesses helped me understand the importance of a global perspective, the challenges and the opportunities in our sector and adjacent categories," Taylor says today. "Whilst a local focus is important, these wider perspectives are critical for domestic dairy businesses, customers and consumers."

Busman's holiday over, Taylor turned his attention to Lactalis. He took over from Andy Smith as CEO and group MD of Lactalis McLelland and six other related companies in July 2014.

Once in the new job, he found Dairy Crest and Lactalis to be as different as chalk and cheese, if you "pardon the pun". Taylor describes the French dairy giant as an "entrepreneurial, ambitious and engaging" yet simple business, "which focuses on the things that are really important - cost leadership, innovation, being a preferred partner and a brand leader" he adds. "It's a family-owned business, three generations old, and it feels like a family, which is of great credit to the owners."

That family feel extends to the 500-strong UK workforce, 22% of whom are drawn from non-UK EU passport holders, giving Lactalis a Continental flavour.

"As far as people are concerned, our focus is on being a magnet for talent, attracting and retaining the best," he adds. And while he believes the business is well placed to tackle Brexit, he does harbour concerns, not least on that thorny issue of labour.

"European migrant labour has been integrated in the UK for a long time, and it's particularly important for farming, we can't lose sight of that," he says.

"The EU dairy trade is heavily interconnected, and frictionless trade is essential. The more stability the better, and a transitional period would help businesses prepare.

"But it's unlikely we will get a perfect replication of the current situation and we will see cost impacts, both direct and indirect."

Improving efficiencies, particularly over export certification, will also be hugely important if UK dairy wants to capitalise on new export markets.
"I believe very strongly there is a bigger role for this business to play in the UK marketplace and we are keen to explore that with our customers."
"After Brexit, the UK will be the fifth largest exporter in the world, so having efficient systems that enable us to get product to customers efficiently is very important. The current export certification system works, but it would be even better if we had a one-stop shop for certification."

With dairy alternatives booming, the continued protection of dairy terms will also be critical. "There are concerns over the rise of alternatives. We have to work harder to respond to those challenges, plus on fat, sugar and salt reduction," he suggests.

"For example, medium and mature cheddar upwards are already lactose free but we don't talk about that, while mozzarella is naturally light, a source of protein with virtually no fat."

But as he celebrates three years at the helm of Lactalis' UK business, Taylor says the company is well placed for further growth in the UK.

That means innovating with NPD, manufacturing and supply chain processes, continuing its push into own label and supporting its flagship Seriously cheddar brand. It saw sales fall by £5.4m last year to £41m [Grocer Top Products Survey 2016], but Taylor, insists it is back on the right track, with a recent relaunch "extremely well received by consumers" and the brand recently recording its third consecutive month of sales growth.

Elsewhere he intends to build on the success of Président (the number one French dairy brand in the UK). Galbani sales are up 6% year on year and it is being supported with a £2.5m UK ad spend this year.

"Our ambition is to be bigger. The reality is that the UK business is between 1%-2% of group turnover. If you look at some of our competitors, you will see that UK turnover as a proportion of group turnover would be somewhere between 20%-35%," says Taylor.

"I believe very strongly there is a bigger role for this business to play in the UK marketplace and we are keen to explore that with our customers."

We may be hearing much more from this company from now on.