Dairy drinks have escaped the soft drinks levy so far. But two years on, momentum from anti-sugar campaigners is growing
Will Rishi Sunak slap a sugar tax on dairy drinks in his 2021 Budget? That's the question on the lips of suppliers and health campaigners alike.
An extension of the levy has been mooted since it first shook up the soft drinks sector back in 2018. The message was clear: if dairy drinks don't get their act together, they'll be next in line.
Two years on, the industry has heeded that warning and upped its reformulation efforts. So will dairy drinks manage to dodge the chancellor's sights? Or will pressure from campaigners put the issue back on the table?
On the face of it, the idea of a tax on dairy drinks seems as likely as the image-conscious chancellor emerging from 11 Downing Street with a milkshake moustache.
That's primarily because of the great strides dairy drinks have made in reformulation. Between 2015 and 2019, there was a 22.1% decline in the sales-weighted average sugar levels per 100ml of milk-based drinks, Public Health England (PHE) reported in October. For flavoured milk substitutes, that figure was 5.3%.
Dairy UK was keen to trumpet the findings. CEO Judith Bryans branded them "fantastic", and a "testament to the dedication of dairy processors to reducing the sugar content of their products".
"The progress made in the milk-based drinks category is incredibly impressive," she said. "It shows the willingness and ambition of industry to reformulate their products, working with PHE."
"The progress made in the milk-based drinks category is incredibly impressive"
Indeed, reformulation examples are rife across many of the big brands. Weetabix has lowered the amount of sugar in its drinks by 17% since their 2014 launch. Shaken Udder has cut levels by as much as 26% across the majority of its lines. And Jimmy's has reduced its core range from 5.5g sugar per 100ml to 4.6g – below the 5g threshold of the soft drinks levy.
What's more, these efforts don't seem to have hampered their appeal. Take-home sales grew 8.4% to £221.5m in the past year [Kantar 52 w/e 12 July 2020].
Another factor that makes a levy unlikely is the demise of PHE. After all, it took the lead in the sugar reduction programme – and, in 2018, gave suppliers the chance to either reformulate or risk facing an extension to the sugar tax.
The body has now been replaced by the National Institute for Health Protection, leaving the future of the voluntary reformulation programme in doubt. It could also kill off its sugar tax threat.
Indeed, Action on Sugar nutritionist Holly Gabriel is "not convinced" an extension to the levy will happen anytime soon. The chances of that have been further reduced by the postponement of 2020's autumn Budget, she adds.
Not to mention the launch of two recent health programmes that failed to mention the sugar tax in any form. Henry Dimbleby's National Food Strategy omitted any suggestion of extending the levy to include milk drinks. As did Boris Johnson's much-hyped anti-obesity programme.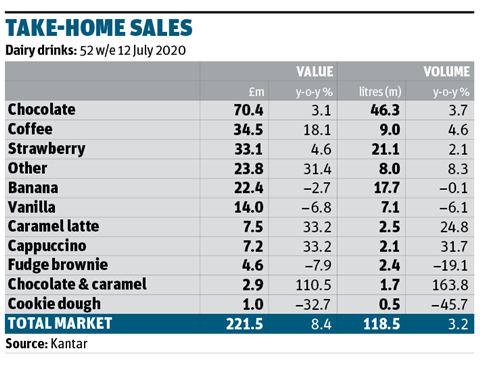 Punitive action
Nevertheless, dairy businesses aren't entirely clear of the chancellor's gaze. Health campaigners continue to push for punitive action on dairy drinks.
Despite the progress made by dairy drinks in PHE's October report, Action on Sugar chairman Graham MacGregor said the general rate of change across all categories made it "abundantly clear that the government's voluntary sugar reduction programme is simply not working".
Many well-intentioned suppliers were "crying out for a level playing field, which can only be achieved by setting mandatory targets for calorie and sugar reduction", he added. "The soft drinks levy has shown that this approach is both best for business, and best for everyone's health."
MacGregor went on to call for PHE's replacement to "implement comprehensive and compulsory reformulation targets across the whole of the food and drink industry to gradually reduce the amount of sugar".
The idea of compulsory targets could significantly shake up dairy drinks. Because, despite the many voluntary moves, there are still plenty of sugary dairy drinks on sale. Take Yazoo and Frijj – big sellers aimed at young people. The two brands contain between 8.9g and 10.9g of sugar per 100ml.
Yazoo owner Friesland Campina says its sugar reduction plans "are in line" with PHE targets, while Müller, maker of Frijj, claims to have "taken proactive steps" to cut its sugar.
However, suppliers and campaigners have cited both as giving the category a bad name – particularly because of their large packs. "A 400ml pack size is just too big," says Action on Sugar's Gabriel. "To commit to realistic portion sizes as a way of reducing sugar intake is an opportunity at the moment, but it may not be there if they're brought into the levy."
"We need a levy model which acknowledges naturally occurring lactose"
Still, opponents of a levy argue sugar content isn't the whole story. "The lactose content of milk is nearly 5g per 100ml – the lower threshold for the current soft drinks levy – so whole milk would be taxed," says Crediton Dairy head of marketing & insight Abigail Kelly.
This would send the wrong message on how to eat and drink healthily, she believes. "You can't say to people a whole milk drink is bad for you and carries a sugar levy. It's like saying eating an apple is bad for you when it's getting five McDonald's a week that's really bad. We need perspective on that."
The naturally occurring sugars in dairy leave policy-makers with two options, according to Shaken Udder co-founder Andrew Howie. "You'd either need to include only the free sugars added to the product, or you'd need to raise the threshold from 5g to 10g per 100ml to account for natural sugars."
This is in line with guidelines from the NHS Commissioning for Quality & Innovation framework, he adds, "and allows for roughly 5% natural milk and 5% free sugars".
Or campaigners insist there is a third way, based on calorie content. "We need a levy model that acknowledges the naturally occurring lactose-based sugars – an energy density model would do that better than just a pure sugar model," suggests Sustain Children's Food Campaign coordinator Barbara Crowther.
Action on Sugar says the levy's lower threshold could be set at 40 calories per 100ml, with the upper one at 53 calories. The benefit is that it would not penalise manufacturers for using whole milk.
At the same time, this approach could lead to the likes of Yazoo and Frijj, which weigh in at above 60kcal and 70kcal per 100ml respectively, adding about 10p to the price of each drink to cover expenses.
If the soft drinks levy is anything to go by, that extra cost may well deter shoppers. So suppliers may have to lower their costs to health instead.
Keeping on-the-go sales going in a stopped world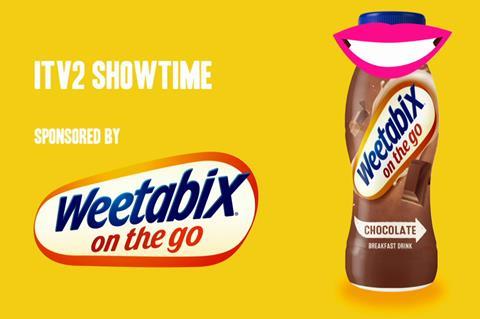 Restrictions in the out-of-home sector have pushed dairy drink shoppers towards retail. At least, that's what the sales figures suggest. Take-home sales rose 8.4% to £221.5m on volumes up 3.2% [Kantar 52 w/e 12 July 2020].
But that's not to say the sector hasn't taken any hits. See breakfast and protein drinks – both of which are synonymous with on-the-go. They slumped about 60% in volumes year on year during the initial phase of Covid-19 [IRI 4 w/e 19 April 2020].
This marked a "tough" time for Weetabix, says the brand's general manager for on-the-go, Emma Varlow.
Sales have recovered somewhat as lockdown restrictions have eased, she adds, and she is optimistic about further recovery.
There could be an opportunity to rely less on the on-the-go occasion, too. Research commissioned in May 2019 by Weetabix found 67% of breakfast drinks were consumed in the home. The so-called new normal could see this figure rise, Varlow suggests.
"Shoppers and consumers have still been busy at home; it is just a different busy. They've been trying to juggle home schooling, Zoom calls and housework.
"They might not be in their car going to work, but they still need a convenient and tasty breakfast solution."
No wonder Weetabix upped its marketing spend over the summer, replacing its planned push at the cancelled Reading Festival with TV slots during ITV2's primetime scheduling. A digital campaign on Facebook and YouTube is also underway.
Iced coffee drinks saw a similar pattern. Although they suffered a sales decline in spring, they quickly recovered in summer. "The fact we had lovely weather, coupled with people getting used to their new shopping behaviours and ways of life, meant people carried on buying into iced coffee," says Crediton Dairy head of marketing & insight Abigail Kelly.
Some retailers have better complemented iced coffee with their ranging than others, she adds. Crediton has seen a back-of-store offer at Asda lead to a "climb and climb" in iced coffee sales over the past six months.
Conversely, Co-op sales were dented because the retailer's impulse fixture "was not part of the shopper mission", Kelly says.
Innovations in dairy drinks 2020
This article is part of The Dairymen - our annual guide to the dairy industry that's packed with insight and analysis on all the latest trends. To read the report, subscribe here.
A new sugar tax? The Dairymen drinks category report 2020
1

Currently reading

A new sugar tax? The Dairymen drinks category report 2020

2

3

4

5

6

7

8