As foodservice suppliers poured milk down the drain, grocery sales surged in lockdown. So, what will Covid-19's legacy be?
Milk may as well have been ruled by the tides this past year. For lockdown saw a truly tidal shift in the channel mix. As demand from foodservice ebbed, there was a storm surge in grocery.
That behaviour hasn't disappeared with the easing of restrictions, either. Coffee shop suppliers say demand is still around 40% down on what it was pre-pandemic, while those that supply schools are still smarting from the six-month closure from March to September. The drying-up of demand in these sectors led to heart-breaking scenes of waves of fresh milk washing down the drain because processors couldn't find alternative outlets.
But if there was drought in foodservice, there was deluge in grocery. An extra 121 million litres went through the tills in the year ending 12 July, driven primarily by the restrictions put on Brits' lives in March [Kantar]. Value sales rose by 4.1%, an increase worth £137.1m.
"Demand was ridiculous," says Crediton Dairy sales & marketing director Nick Bartlett, recalling the situation at the height of lockdown. "There was a massive increase in demand from customers during that period, far outstripping our ability to supply. Customers were ordering 10 times their normal volumes."
The boom went beyond the high street. Direct-to-consumer service Milk & More delivered more than 78 million pints of the white stuff to homes across England between March and August – having signed up more online customers in the first eight months of 2020 than in the whole of 2019.
It's hardly surprising that the 94% of UK households that consume milk have been buying in greater volumes since the nation was effectively put under house arrest. Kantar data shows there were 2.9 billion cups of tea and 1.7 billion cups of coffee drunk over the eight weeks from 17 May to 12 July – representing year-on-year increases of 21% and 19% respectively.
Still, that doesn't mean the rising tide in grocery will be enough to offset the declines elsewhere. And this year could have lasting ramifications for hard-pressed suppliers.
After a turbulent couple of years coloured by huge losses at Müller, the collapse of Tomlinsons and a mooted merger of Medina and Freshways, the last thing the liquid milk sector needed was the sight of farmers pouring unwanted milk away.
But as the UK went into lockdown, that's exactly what happened as the headlines highlighted the plight of processors supplying into the foodservice channel, and the farmers supplying those processors.
With foodservice making up at least 40% of its business, Freshways told its farmer suppliers that it was "incurring losses" in mid-March as a result of the collapse in demand – prompting it to launch a series of price cuts and delays in payments. The London processor faced further challenges when director Ravi Nijjar was hospitalised with Covid-19.
Other mid-market milk processors and distributors exposed to the foodservice channel, such as Medina, Pensworth and Graham's the Family Dairy, were also forced to either cut their milk price, delay payments or do both to avoid what one industry commentator branded "the very real prospect of another Tomlinsons".
Losses versus gains
Arla UK MD Ash Amirahmadi warns the gains made in retail won't counterbalance losses in foodservice. "We may have to look again at reducing costs in a critical way," he says. "Clearly we have learnt a lot about simplification and improving availability of key lines."
Indeed, Arla cut its milk SKUs from 13 to six at the start of lockdown to maintain supplies. This led it to temporarily delist its Big Milk brand, in addition to whole milk Cravendale lines – helping increase capacity for core dairy products by at least 25%.
"We may have to look at reducing costs in a critical way… we have learned a lot in the pandemic"
Other Cravendale variants were very much core, though. As longer-life filtered and UHT milks saw a surge in volumes, Arla's filtered milk brand enjoyed a 22% rise in revenue over the first half of the year, says Amirahmadi.
"Standard milk sales had a peak at the beginning of lockdown and then stabilised but Cravendale continued to grow," he adds. "Shoppers told us they had increased confidence in the longer-life and filtered nature of the brand."
Arla wasn't the only one that had to adapt. Graham's the Family Dairy in Scotland was also hit hard by lockdown, with more than 1,500 of its foodservice customers forced to close their doors. "This had a significant negative impact on the business, despite the uplift in volumes across some of our customers," says MD Robert Graham. The processor was forced to cut its milk price and, in some cases, dispose of milk.
But it also looked to mitigate disruption by "quickly mobilising teams across the country to expand our doorstep delivery service to more people and areas across Scotland who were affected by lockdown", Graham adds. "Our main objective was to minimise the impact on colleagues and particularly our 100 farming partners, as it is not an option for them to stop milking their cows."
C-stores
The closure of foodservice wasn't the only change at this time. There was a seismic shift going on in the retail arena, too. As shoppers swerved queues at the mults, sales were diverted into convenience.
C-store sales "exploded" during lockdown, according to Crediton's Bartlett. "Going to a c-store to top up on milk and bread was a hell of a lot easier than queuing for supermarkets."
Alpro also reports strong sales in the channel. Marketing director David Jiscoot says revenue through convenience saw "a particularly notable uplift", helping push overall brand value up by 18.2% and volumes 15.1% [IRI 12 w/e 22 August].
"We'd attribute this growth to a combination of our existing shoppers stocking up on their favourite plant-based products to avoid running out, and new shoppers buying alternative products in the absence of their usual choice being available on shelf," says Jiscoot. That much of Alpro's range can be stored ambiently seems to have helped; Nielsen data for the 12 weeks to 16 May put its long-life milks in 40% growth.
"Going to c-stores to top up on milk was a hell of a lot easier than queuing at supermarkets"
The importance of convenience is echoed by Müller Milk & Ingredients head of strategy, category and marketing Anthony Wilson.
Although the initial spike in demand was great across all retail channels – "higher than any Christmas peak we have ever seen" – c-stores stood out. Indeed, demand was up 20% on last year during the initial peak, while supermarkets were up 10%. Convenience is still averaging a 10% uplift in sales in the year to date.
Müller had to rally to meet that demand. "Thanks to the hard work of everyone within the business, from tanker collections and dairy operators to our distribution depots, crucially we were able to maintain our service levels," says Wilson.
For many, the channel was a welcome counterpoint to the decline in foodservice. Medina Dairy – which found itself in the firing line for savage farmgate price cuts – has similarly experienced a bounce from c-stores.
Commercial director Terry Ziton says the processor has seen "a rise in sales of milk up circa 10% compared to pre-Covid, as have other products we supply to this sector such as bread and eggs".
Meanwhile, Francis Clarke, MD of Cornwall's Trewithen Dairy, says indies emerged as a particularly popular channel for its products.
"Sales into the independent channel rose dramatically as we headed into lockdown, peaking at 60% up vs pre-lockdown sales," he says. "This has subsequently tailed off but settled at 30% up on the previous year."
Clarke believes these smaller stores have benefited from generally being well located. That they tend to offer a range of fresh products will "see this rise in sales sustained, especially over the winter months", he says.
Plus, these stores are often "embedded in their local community", Clarke adds. Many went above and beyond for their shoppers during the depths of lockdown, and have therefore retained a larger share of sales as restrictions eased.
Tough conditions
Despite these areas of rapid growth, overall market conditions remain very tough, stresses Medina's Ziton. He points to plans to close its Watsons Dairy in Hampshire, announced over the summer. Meanwhile, rumours about the merger talks with Freshways – confirmed by Freshways MD Bali Nijjar in an interview with The Grocer in April – continue to surround the two businesses.
"Parts of our foodservice customer base have seen a degree of recovery, with coffee shop and restaurant sales back up above 60% of what we would normally expect," Ziton says.
"The latter being given an undoubted boost in August by the chancellor's 'Eat Out to Help Out' initiative and the cut in VAT. However, central London remains extremely quiet and much of our travel and work-based customer demand remains very low."
With the nation on a knife edge over renewed Covid restrictions this autumn, those problems are unlikely to go away anytime soon.
Does £156m Oatly deal risk going sour?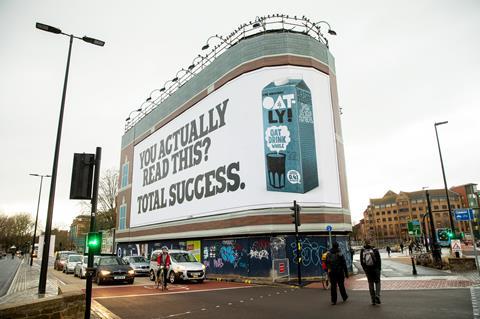 Swedish brand Oatly was the darling of the dairy alternatives category, lauded for its disruptive marketing and sustainability credentials. Then it accepted a €200m (£156.3m) investment.
The money came in July from a consortium including A-listers such as Oprah Winfrey, Jay-Z and Natalie Portman, alongside former Starbucks CEO Howard Schultz – securing about 10% of the business and allowing it to create new jobs and accelerate its global expansion plans. The investment marked a "global behavioural shift" towards plant-based food and drink, claimed Oatly.
But when the presence of US private equity firm Blackstone at the head of the consortium became apparent to climate activists in August, what followed was a firestorm of criticism. Oatly essentially became the latest victim of social media cancel culture.
Their disapproval centred on claims Blackstone had invested in Brazilian businesses linked to deforestation (which the PE firm strongly denies) and that its chairman & CEO, Stephen Schwartzman, is reportedly a donor to the infamously climate change-sceptical Donald Trump.
"Money is being tied up left, right, and centre in businesses which are not environmental, or even ethical in many ways," tweeted climate activist @LessWasteLaura. Oatly responded by insisting its decision to partner with Blackstone had been an "intense, thought-out process", before adding the firm was "the biggest supermarket of the private equity sector".
By convincing the PE giant it was "as profitable" to invest in a sustainable company like Oatly, it hoped "all the other private equity firms would look, listen and start to steer their collective worth of $4tn into green investments".
Only by engaging big business would the planet have a chance of cutting greenhouse gas emissions by 50% before 2030, the plant-based brand added. "We need to speak a language that the capital markets can understand."
As well-intentioned as it might be, Oatly has made an error, suggests Matt Bennett, CCO of creative agency Zak. As a fast-growing business, it was in need of investment, but "they've gone to the wrong place for the capital".
Oatly will survive the negative publicity because it is "already at the scale to deal with it", he predicts. "But it will have definitely had a percentage of its audience who have turned off."
Still, it doesn't seem to have had too much of an impact at the tills yet. Kantar figures show that Oatly's value has more than doubled over the past year.
This article is part of The Dairymen - our annual guide to the dairy industry that's packed with insight and analysis on all the latest trends. To read the report, subscribe here.
A new sugar tax? The Dairymen drinks category report 2020
1

2

3

4

5

6

7

8

Currently reading

Changing tides: The Dairymen milk category report 2020