All yoghurt is made in the same way: milk is heated, cultures are added and the mixture is cooled to set before being strained.
It may sound simple, but in every country across the globe where you'd find a cow, you'll also find slight variations to the process and a range of yoghurts with vastly different flavours, textures, shades and consistencies.
Kefir and skyr are now common in UK shopping baskets, but are there new cultures that other cultures could offer? Here's our list of global yoghurt styles that should be on your radar.
Maast
Origin: Persian, Iranian, Kurdish
Described as "better-than-ice-cream good" by Bon Appetit magazine, maast is made by coddling the pot of heated milk and cultures with blankets and letting it "sleep" for eight hours before it sets to yoghurt.
Small-batch Persian yoghurt brand White Moustache, which perfected the traditional method and brought it to the US market in 2010, made headlines after the California Department of Food & Agriculture put a stop to their stall at the Laguna Beach Farmers' Market.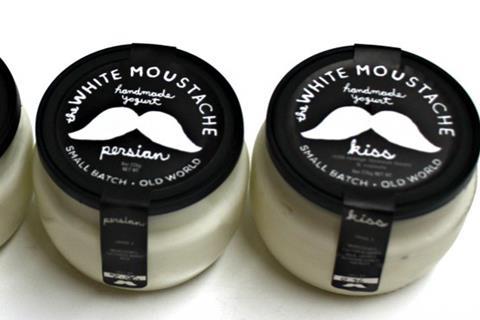 Despite using pasteurised milk and selling with the appropriate permits, California law prevents the sale of yoghurt that has been made in a different facility from where the milk was pasteurised. Taking the yoghurt up to code would involve re-pasteurising the milk, costing thousands in equipment and jepoardising the taste and texture of the end product. Undeterred, White Moustache owner Homa Dashtaki moved the business away from the legislation to New York City, where people now gladly hand over $6 for a pot from one of the two dozen venues who have a small supply of it.
Ryazhenka
Origin: Russian, Ukrainian, Belarusian
Though its name translates to "sour milk", the end result of the ryazhenka method sounds far more appetising.
To create this Russian speciality, pasteurised milk is baked in a clay pot for a minimum of eight hours – far longer than stated in most other recipes. During the bake, the milk becomes coated in a brown crust and the natural sugars caramelise, giving the resulting yoghurt a sweet, toffee flavour and cream colour.
Dahi
Origin: Indian
Praised as a staple in every healthy Indian diet, dahi (also known as curd) is eaten on its own, as an accompaniment to savoury dishes or in chaas, a yoghurt drink with herbs and spices which is said to aid digestion.
The best meal of the day for the vegetarian in me on highway - curd being sold by locals in KurtiKolar, Bijapur. Home set dahi in a setting thousands of miles from home is nothing but pure bliss 😀 pic.twitter.com/3WQbqCHAzY

— Alka Kaushik ✈ (@LyfInTransit) December 16, 2017
Dahi follows the same basic yoghurt process, but once the milk is brought up to the boil, it must be stirred and simmered for up to 20 minutes for a thicker set. Once the milk is cooled and a spoonful of yoghurt had been added, a broken red chilli is added to the bowl, adding more live cultures and helping it to set firmly.
Women in rural South India are known to skip adding the spoonful of yoghurt and add instead red chilli stems to the milk during cooking to create new bacterial cultures.
Amasi
Origin: South African
The yoghurt of choice for Zulu warriors, amasi was said to make men strong, healthy and more desirable. The recipe for this yoghurt involves a bit more fermentation. Unpasteurised milk is poured inside calabash containers which are made from a dried gourd. The gourd is then left in the heat of the sun until the liquid separates and the amasi yoghurt can be strained from the remaining watery liquid. The end result is a cross between cottage cheese and plain yoghurt.
View this post on Instagram
The yoghurt was so important to Zulu life that one of the culture's most popular phrases "kwafa igula lamasi", which means "our hopes were dashed", translates to "the calabash of amasi broke".
Cuajada
Origin: Spanish
A classic lunchtime dessert in Spain, this set yoghurt was originally made with ewe's milk and is often served with a "galleta María" (similar to a rich tea biscuit) on top.
View this post on Instagram
To make this set yoghurt, heated milk is poured into individual terracotta pots, and the mixture can be blended with honey or walnuts. The traditional pots were once returned to shops to be reused but, as mass production took hold, many big-brand cuajada products in Spanish supermarkets moved to plastic tubs. Premium cuajada brands and some top-tier own-label lines are still available in terracotta.
The Dairymen
From lab-made milk to butter shortages, our annual definitive guide to the dairy category is full of insight and analysis on the latest trends shaping the industry. This year, The Dairymen will explore how the UK's exit from the EU will affect British dairy, and ask how the industry can make sure it is prepared to tackle the supply chain pressures it might bring, as well as making the most of potential new export markets.
Gold and Platinum members will be able to download The Dairymen from 14 September. Subscribe now. We'll be publishing insight and analysis from The Dairymen online throughout September and October.