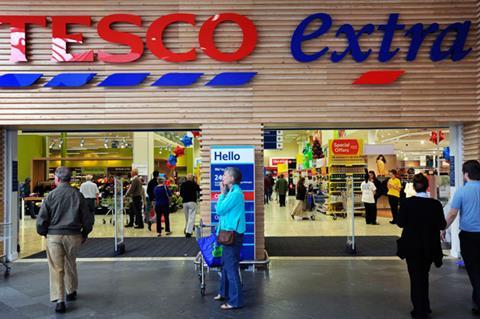 Tesco and Asda have emerged as the big winners from this year's Grocer 33, which concluded this week.
Tesco won our awards for service and availability for the second year running, while Asda picked up our pricing gong for the 23rd consecutive year.
Tesco's success was built on winning the store of the week award on 20 occasions this year – 10 more than its nearest rival, including four wins in the final 10 weeks, when The Grocer altered the methodology to reflect the havoc in the retail sector caused by the lockdown and the special conditions in which supermarkets had to operate.
Tesco UK CEO Jason Tarry said it was "very proud of the efforts and lengths our colleagues go to deliver on our core purpose of serving our shoppers a little better everyday, and in the last few months in particular they have been extraordinary.I'm delighted these efforts have been recognised by The Grocer in winning the Service and Availability awards for the second year in a row."
Waitrose, with 10 wins, pipped Sainsbury's to second place after picking up four wins during the lockdown.
In terms of availability, Tesco recorded the best overall availability percentage across the year at 93.5% – though this was down from 96% last year, due to Covid-related shortages.
It achieved only four full baskets over the 48-week period, equal with Sainsbury's.
Asda's domination of the pricing award continued. It provided the cheapest shopping list 33 times this year.
Asda was well clear of Sainsbury's with seven wins and Morrisons on four. Tesco had just one victory, while Lidl won on each of its three guest slots and Aldi also won on its only appearance this year, as guest appearances were limited.
"Everyone at Asda works to ensure we're giving our customers the best value on a basket of shopping every time they shop with us so we're all absolutely delighted to once again be recognised as the UK's lowest-priced supermarket by the Grocer.," said Asda chief merchandising officer Derek Lawlor.
"We know that customers are more aware than ever of the cost of their shopping, and I am proud that we're doing everything we can to keep prices low to help their budgets go further."
A full analysis of the results will be published next week.
The Grocer 33 prizes will be handed out at The Grocer Gold Awards, which have been delayed due to the coronavirus. They will now take place at the Guildhall in London on Monday 2 November. For more information on ticket sales, see thegrocergoldawards.co.u