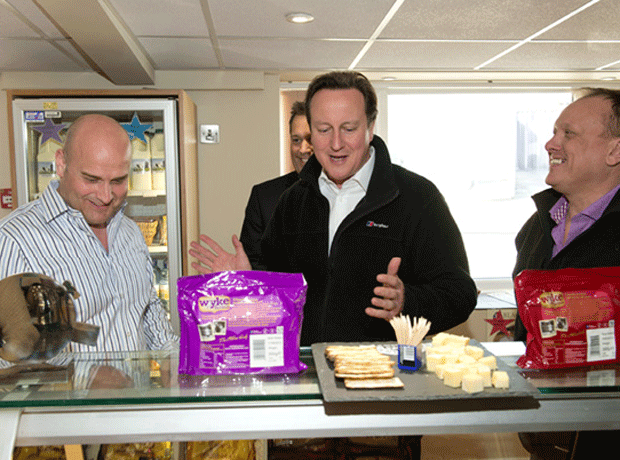 If the party leaders were grocery brands, which would they be? Admittedly, it's probably not a question on most of our minds as we head off to vote today, but we're a bit different here at The Grocer, so we've had a quick straw poll around the office.
If Cam were Spam (his skin tone's a perfect match) Clegg could be Dairylea (rather weak; spreads really easily) or maybe Kinder Surprise, as you never know what you're going to get with him. Or perhaps the ConDem couple could be a Twix? As in the brand's ads, the left and right sides loathe each other, yet we all know they're identical.
Miliband, meanwhile, could be Lambrini: terribly uncool, but for some strange reason rather popular with young women, who think he's as sweet as cherry perry. And like Pot Noodle, Farage talks a good game. But take a bite and you'll find he's rather lacking in sustenance.
We're not the only ones who have been thinking along these lines in the run up to Election Day. Last week, shopper research agency SBXL revealed the results of a poll that found if politicians were supermarkets, most thought Cameron would be Waitrose, Miliband would be Tesco, Clegg would be The Co-op and Farage would be either Iceland, Aldi or Lidl.
SBXL concluded that shoppers feel Cameron is upmarket, yet inaccessible for many; Miliband is perceived as mainstream but struggling for identity; shoppers weren't sure where Clegg fits in; and Farage was seen as a disruptive force (oh, the irony that he's associated with foreign chains).
Branding consultancy Jones Knowles Ritchie (JKR) has taken a different tack, comparing consumers' views on how charismatic the party leaders are with the scores of major grocery brands. All four are deemed to have less charisma than such products: 41% say Farage is charismatic; 24% say Cameron is; 16% say Miliband and Clegg are; brands usually don't get a score of less than 60%.
"These brands aren't all big icons like Apple and Nike either – they're household staples like Fairy, Snickers and Hovis," says JKR strategy director Lee Rolston. "Either the party leaders aren't allowing their true personalities to come to the fore or today's leaders don't possess the X factor."
Perhaps the political elite should go to P&G or Premier Foods for lessons in charisma. Then again…