The Welsh food and drink sector is now a "globally renowned success story", said Welsh agriculture minister Lesley Griffiths at today's flagship Blas Cymru/Taste Wales conference.
But a Brexit-shaped elephant in the room threatens to cast a shadow over that success.
Welsh food and drink exports in 2018 were worth £539m, according to Welsh government data, up 2% or £10m on the previous year, and up 32% on 2014 levels. Non-EU exports also did well, up 21% last year.
And if this week's two-day event at the Celtic Manor Resort near Newport was anything to go by, buyers from all over the world can't get enough of Welsh food and drink – with more than 100 producers attracting interest from countries as diverse as Germany, Canada, France, Japan and the UAE.
Griffiths told me many producers had made 18 months-worth of contacts in just a few hours, leading to a "buoyant" atmosphere in the exhibitors' hall. But she also conceded these export prospects would "need to be seen through". And given the huge uncertainty emanating from Westminster, that may not be as easy as everyone here would hope.
That sense of confidence in the sector, tempered by 'ansicrwydd' or uncertainty around Brexit, was shared by the exhibitors I spoke to.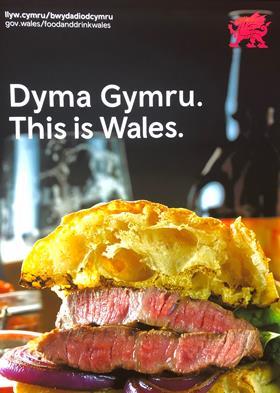 One said he had recently landed an export deal worth £500,000 with a major US retailer for his product. However, the deal had become "impossible to finalise" due to concerns over the UK's future trading relations with the US. The business was also "feeling the pinch" due to ongoing concerns around labour at its manufacturing facility.
Another suggested there was plenty of global interest in importing his product, but "there was no point" until the Brexit impasse was resolved. A third noted there was "plenty of opportunity", but producers were still "in limbo".
This sense of helplessness goes to the very top of government in Wales. Griffiths bemoaned the "frustrating and disrespectful" stance of Theresa May's government, which failed to consult her over its no-deal tariff plans last week.
"We heard about these plans at the same time as everyone else," she said. "We need to be around the table."
The Welsh government is doing its best to help producers prepare, with Griffiths pointing to her announcement this week the sector would receive an extra £22m in "resilience" funding.
It is also looking to develop new export markets, where the taste, provenance and welfare standards of Welsh produce plays well.
Japan would be one of those key new markets, with this summer's Rugby World Cup and a Grand Slam-winning Welsh rugby team set to help keep Wales and Welsh produce more visible to the Japanese than ever. But despite the opening up of Japan to UK red meat imports just a few months ago as part of a new EU/Japan free trade deal, Griffiths conceded trade barriers could go back up as soon as next week, in the event of a no-deal Brexit.
Theresa May said last night people were "tired" of the Brexit process and wanted it all "to be over and done with".
On today's showing, it's probably the only thing everyone agrees with her on.


Kevin is The Grocer's fresh foods editor, overseeing our coverage related to the retail fresh foods sector, including dairy, meat, fish, poultry, fruit & veg and eggs, as well as the plant-based foods category.

He also assists in production of The Grocer's annual Dairymen supplement, while also writing about food commodities, sourcing, sustainability, politics and regulation; and has appeared as a commentator on both radio and TV on the state of the UK food industry.

Prior to joining The Grocer in 2014, Kevin wrote about retail financial services for a Financial Times business publication, and began his career as a journalist working for regional newspapers in Wales.

Follow Kevin on Twitter: @KevWhite77