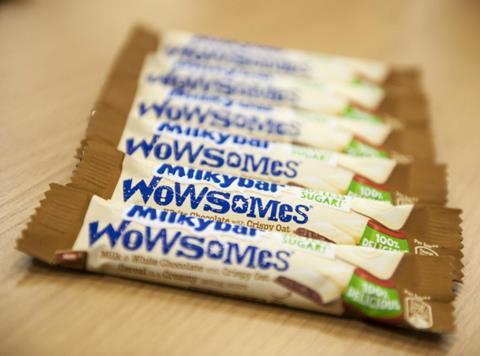 It's only Tuesday but the week has already seen two jaw-dropping food innovation stories. Which one to focus on here? Well, Ikea's Crispy Bug Balls are certainly toothsome-looking, what with being made of parsnips, carrots, beetroot and – most delicious of all – mealworms. Plus, a global retailer making moves, no matter how creepy and crawly, to sate our growing lust for protein is intriguing and noteworthy.
However, let's concentrate on the other, even bigger news – which is Nestlé's reveal today of Milkybar Wowsomes, its first snack using proprietary technology that renders sugar crystals 'hollow'. More accurately, a process of co-drying milk and sugar that creates crystals that are "amorphous and porous". They contain far fewer calories with no reduction in sweetness.
This is a big deal, even as the true potential of the concept remains to be seen. Nestlé is, unsurprisingly, playing its cards close to its chest on the details. On the face of it, the supplier seems to simply be creating milk crumb. That is a vacuum-dried, crystallised mixture of milk and sugar – also known as blockmilk – which is used widely in chocolate confectionery, usually with added cocoa liquor.
Nestlé's product differs in that it's spray-dried. Spray drying in and of itself isn't unusual, just gentler than vacuum drying. It also aerates the particles.
The ability to create hollow sugar crystals in this manner has been known about for some time, but applying the technology has to date been challenging. As a result, confectionery suppliers have generally opted for more conventional solutions to cut sugar, such as reducing portion size or substituting sweeteners for sugar.
Today's news suggests Nestlé has finally cracked a way to use spray-dry milk crumb on a large, economical scale. And that could signal a step-change – for chocolate confectionery, at least. The company's super-sugar probably won't be any good in soft drinks or boiled sweets, unless a milky taste is required.
As for when we can expect other suppliers to adopt the technology, it's a case of wait and see. Nestlé says it's much too early to decide if it will share its tech with the rest of the food and drink industry. More work is needed first, it insists.
Aside from some understandable reticence around sharing the fruits of its R&D efforts with rivals, Nestlé will be mindful of consumer reactions.
Reformulation can be a risky game that backfires if reduced-sugar products don't deliver on taste. Just think of the opprobrium Lucozade Energy faced last year after it reformulated its original drink ahead of the sugar levy.
For now, however, the only complaint anyone can make about Wowsomes is that it isn't yet on shelf to try.
Once it rolls out to retailers, though, expect its performance to be watched very closely across the industry.