While a certain level of confusion still surrounds the government's plan to implement HFSS legislation later this year, Unilever brand graze says the challenge should be viewed as an exceptional opportunity to make the nation healthier.
No sooner does it seem that the UK food and drink industry has conquered one piece of government legislation (Brexit, Natasha's Law), than there's another waiting in the wings.
The upcoming high-fat, sugar and salt (HFSS) legislation, due to be implemented in the UK in October this year, is a case in point. In one recent Grocer webinar prequel it was described as "the elephant in the room, the unwelcome guest that turns up without an invite to every meeting, client lunch and supplier negotiation". However viewed, it's certainly this year's hot potato – and many confectionery and snacks companies are looking at how they can comply through reformulation, re-educating their consumers or simply sitting back and wait for the inevitable, taking the stance that indulgence will win out over the 'less healthy' ingredients their products contain.
In terms of retail, there is even speculation that the 'gondola end' in stores will give way to the 'Power Aisle' and ordinary aisles will become the turf for pitched space battles.
Moreover, recent events, including The Grocer's HFSS Clampdown Conference in March, have highlighted the fact that there is a distinct lack of readiness among suppliers and retailers for the HFSS measures, with 42% of businesses feeling unprepared for the legislation and food and drink bosses calling on government to delay the crackdown.
Retailers have also urged for an extension, with a Censuswide study for tech supplier Spoon Guru revealing that 87% of top UK supermarkets want a delay of six months or more, with 35% concerned about falling foul of the new rules and 18% revealing they do not know where to begin with their preparations.
Yet despite a lack of clarity on elements of the legislation and indications of significant costs to retailers, there seems little willingness from the government to push back the deadline once more, as the regulation was originally due to have been implemented in April 2022.
So, as IRI UK head of retail Jaime Silvester noted at the Grocer's conference, supermarkets that prepare and trial now are likely to be in the strongest position when the restrictions arrive, with some retailers already rolling out healthier aisle end fixtures and introducing 'under 100 calorie' bays across a range of categories. "The most obvious solution is to replace restrictive space with compliant healthier products," he said.
Longer-term opportunity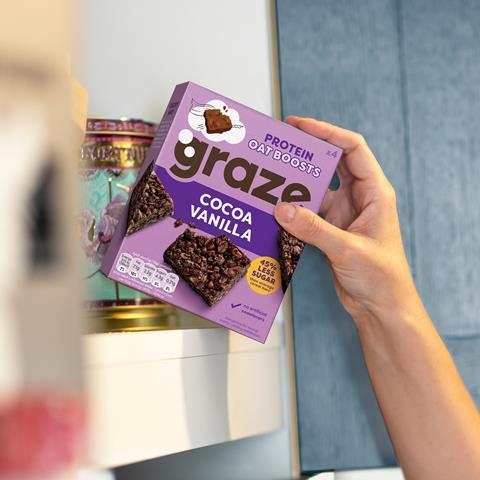 One company that agrees with Silvester's stance on the issue is healthy snacks brand graze. While acknowledging there is a short-term challenge for the industry to overcome in adopting the new legislation, it notes that, with every challenge comes an opportunity and one that shouldn't be viewed through the lens of risk mitigation, but rather a huge opportunity to reshape the world of snacking, and food for the better.
"HFSS should be viewed as a positive, leading consumers to healthier eating habits in general," says CEO Joanna Allen. "We want to stepchange the sentiment around HFSS and inspire the industry to see this legislation as a true opportunity for commercial growth and advancing health together in the UK. Implementing HFSS legislation doesn't have to come at the compromise of commercial performance."
"As a B Corp accredited company, we're committed to transforming the snacking category by creating deliciously healthy and exciting snack experiences for shoppers. Through making 'healthy' exciting and delicious, together with retailers we can future proof the growth of snacking and set it up for long term sustainable growth".
As the company notes, the implementation of HFSS is designed to encourage healthier eating habits in a population that has long been struggling with the effects of obesity. In 2019/20 there were more than one million admissions to NHS hospitals where obesity was a factor. Nearly two-thirds of adults in England have been classed as being overweight, with obesity-related illness already costing the NHS £6.1bn.
"To truly tackle the obesity problem and drive long-term profitable growth, retailer and buyers should look to those brands that align with the long-term ambition of improving the nation's health and those that, like graze, seek to transform their categories by making healthy exciting and inspiring to shop," says Allen. "We want to be pioneers of change through creating healthier shopping experiences that are exciting and believe the industry needs to do more to embrace the spirit of the legislation, which is to tackle the obesity crisis and improve the overall health of the nation."
Navigating the change in-store
However, the company realises that the problem for retailers will not just lie in understanding and complying with the new legislation in terms of the physical relocation of products but will also pose a challenge in transmitting that healthier message to consumers and encouraging them to choose the healthier options over their hitherto non-compliant favourites, particularly in biscuits, confectionery and snacks.
"Given the uncertainty around HFSS and the breadth of information and products in the industry, the new processes will be difficult to navigate in stores," notes Allen. "To help store managers, we are adapting our SRPs and off-shelf display artworks to permanently include clear messaging on HFSS compliance to give reassurance to store staff where products can be placed in-store."
The snacks brand, part of Unilever, has also used its data capabilities to rapidly turn data into insight for its retailers, she adds. "We have been supporting retailers with our category leading HFSS tool to advise retailers on the HFSS scores and health credentials of each product across our three snacking categories."
This allows retailers to make quick and easy decisions on ranging, space and displays, she adds. "The tool went live earlier this year and sharing this with our retailers has been a breakthrough in the support we have been able to offer, beyond our graze range."
The company has also conducted various in-store initiatives, including 100% HFSS-compliant gondola end trials with key retailers and Allen says it is already building proof of the growth possible from centring stores around health. "The performance so far has been incredible, with the highest growth numbers we have seen on graze in some of the trial stores. The gondola end has increased visibility to shoppers, driven excitement around health and ensured that graze is featured within high-traffic parts of the store."
Long-term, the company will continue to educate shoppers that there doesn't need to be a trade-off between taste and health "by transforming category signage and creating exciting, delicious and healthier shopping experiences that can maximise growth opportunities for the future", concludes Allen.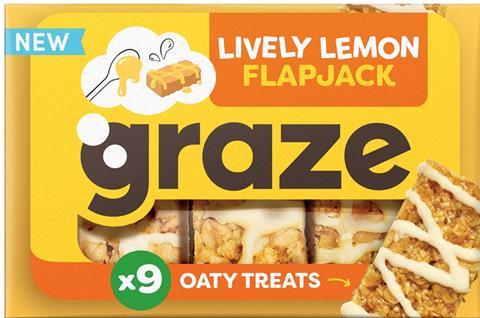 graze offers a broad range of healthy snacks using plant-based, ingredients from nature. Its health promise means graze never uses artificial colours, flavours, sweeteners or preservatives and each and every snack is packed with veg and has a health benefit. The company prides itself on the fact that its snacks will always be deliciously healthy and the perfect alternative to traditional options with graze's crunch range being least 30% lower in sugar or salt than the average crisp, and at least 50% of the range being under 150kcals and no snacks over 250kcals.
The company is in the process of improving its recipes in regards to HFSS and has already undertaken 100 recipe iterations and 30 kitchen trials to ensure it will be able to offer great-tasting snacks that are also HFSS-compliant, reveals CEO Joanna Allen.
"In terms of our own journey, we are working towards making eight out of our 11 snack bar products in grocery HFSS-compliant by October, with the remaining three by the end of March 2023," she says. "All of our Crunch and nuts range will also be fully compliant by October 2022, which means 85% of our entire retail range will be HFSS compliant by that date."
To find out more about how graze can help retailers with the transition to HFSS compliance, click here https://www.graze.com/uk/.
Graze is a United Kingdom-based snack company which is owned by Unilever. Graze offers over 200 snack combinations through snack subscription boxes, an online shop and retailers. The company distributes thousands of snack boxes per day across the UK.