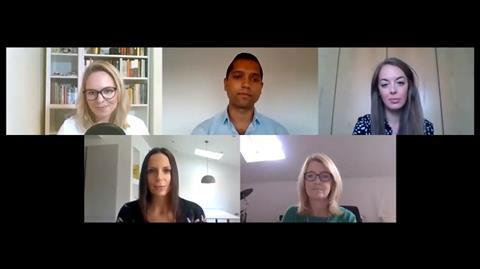 The Grocer Vision's webinar on plant-based's next big growth driver is now available to view on demand.
Plant-based has gone from a small grocery niche to obtaining mainstream traction with consumers, delivering consistent double-digit growth in the process and witnessing a swathe of innovation.
However, with the category becoming more and more crowded, it is becoming harder than ever for retailers and brands to gain cut through with shoppers.
This webinar, first broadcasted on 22 October and sponsored by Alpro, brings together expert speakers from the worlds of dairy-free, meat-free, grocery retail and consumer insights to explore the key trends set to shape the category over the next three to five years.
Hosted by freelance journalist Julia Glotz, the webinar features: Alpro's sales director, Adam Womersley; Katharine Shipley, head of innovation at Co-op's Delicious Food team; Quorn Food UK's marketing director Gill Riley; and Tesni Steele Jones, consumer insights director at Kantar.
Among the topics covered by the panel were the impact of the Covid-19 pandemic on the category, Veganuary and where growth is likely to come from in the future.
For Alpro's Womersley, the three big opportunities for growth are convenience, food service and driving cross-shop.
On convenience, Womersley said the way millennials typically shop in terms of top-up could lead to significant growth for the sector. "It is up 35% year-to-date but there is still a massive opportunity to go after," he said.
"From regular plant-based shoppers, only 9% shop in convenience where if the right range and proposition was in place, it could be as big as 85%."
Meanwhile, Shipley predicted Veganuary would once again prove a big success after 10% took part earlier this year and that global pandemic could in fact be a key reason for the event becoming bigger in 2021.
"It's been growing every year and there has been a lot more interest and a lot more people open to it," she said.
"Considerations about what you're eating is very much at the heart of what people are thinking about," Shipley added.
If you missed the broadcast or want to watch again, register and watch for free.