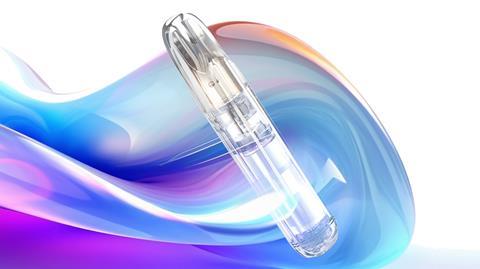 Vape manufacturing and technology firm Smoore has developed a 1,000-puff disposable device, which it expects to hit the market early next year.
The device provides a significant improvement on the industry standard 600-puff devices, while remaining within UK regulations, the company says.
The Feelm 2.0 device does away with the absorbent cotton that holds the nicotine e-liquid in standard disposables, which is heated by a mesh coil, and instead uses a plain tank and new type of coil. This vastly improves the 'atomisation utilisation' of the liquid, meaning less is wasted.
Typically disposable devices fail to use around half of the nicotine-containing liquid within the cotton wick, Smoore claims. "It's like a wet towel, it's hard to fully extract the water," said Rex Zhang, Smoore's strategy director.
"Half of the e-liquid is wasted, and that's a lot of money wasted for consumers as well," Zhang added.
The new device – which is yet to secure a brand partner – utilises 77% of the liquid according to independent testing. It also uses a clear and visible tank, so users can see how much life is left in their disposable devices.
Zhang said he expected the new generation device would require some education of retailers and enforcement teams.
"People nowadays, they think 600-puff is the compliance," he said. "That's the misunderstanding. Because actually the 2ml tank is the compliance requirement and 600 puffs is what the current technology can achieve. Because you only see 600 puffs everywhere people think that's the law. We want to change that."
Smoore provides the technology within many leading disposable and pod-based vapes - such as BAT's Vuse vaping devices. "An analogy is Intel: you have different brands of laptops which all have the Intel technology inside," Zhang said.
"We pride ourselves on being the brand behind the brands," he added.
The first disposables containing Feelm 2.0 technology are set to arrive after the current government consultation on how disposable devices should be regulated in the UK, with a total ban still on the table. More likely are restrictions around flavour descriptors and packaging design.
Zhang said there was still headroom for growth in the disposable market, and while the government's policy was "difficult to predict" he expected the category to continue, albeit more heavily regulated. This would be to the advantage of bigger players, he said.
"Right now there's a big war in the market," Zhang told The Grocer. "Disposables changed consumer decision making and habits. They're so cheap and brought an innovative way of selling products – vapes used to only be sold in specialist stores, with disposables they're in petrol stations, supermarkets, convenience stores, corner stores – they've became more like an fmcg product, like soft drinks.
"New users are getting fewer and fewer, and people will tend to stick with top brands. As long as there's growth in the market, there will always be new players trying to get in. We see some who have never been in the smoking or vaping industry, because they see there's a chance to make quick money. But once the market becomes more regulated you're going to see fewer of them, because there's going to be more entry barriers for smaller players," he said.