Brits are showing growing willingness to try out a dollop of something exotic and/or spicy on their plates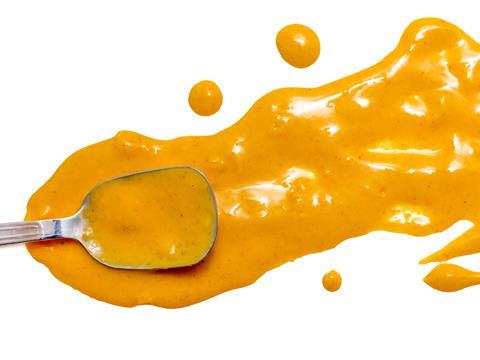 Brits are an adventurous bunch when it comes to sauces & condiments, showing growing willingness to try out a dollop of something exotic and/or spicy on their plates.

That means more are going off traditional sauces & condiments. Market leader Heinz Ketchup has lost £6.4m, Colman's Mustard £3.1m and Branston Pickle £571k. Meanwhile, international brands such as Nando's and Tabasco have enjoyed growing sales.
Data Box
For 20% off the complete category ranking click here and enter discount code NIELSENGROCER
Data supplied by nielsen.com
"Consumers are searching for products that embody innovation and stand out against other sauces and condiments on the market," says Hannah Webb, Hellmann's brand manager at Unilever. "We've seen a big rise in the prevalence of sauces determined not just by flavour, but by the host food they're consumed with, for example Mexican or Thai."

Indeed, Nielsen analyst Niten Thakor notes that Heinz's thick chilli sauce range - comprising sweet chilli, Jerk BBQ, Peri Peri and Hot Pepper variants - was one of the sector's most successful launches of the year, racking up £1.5m. Hellmann's with Olive Oil also proved a success, hitting just shy of £1m.

But the biggest launch of the year was from Heinz: [Seriously] Good Mayonnaise, which hit sales value of £5.9m (making it an obvious choice for our Top Launch - see below). "It has a higher average price than the previous Heinz Mayonnaise," says Thakor. "It's a magnificent mayonnaise due to its premium positioning. However, its average price matches main competitor Hellmann's Real."
Top Launch 2016
Sauces & condiments hasn't been immune to health concerns, however. It's a factor that's impacted sales of Heinz Ketchup, suggests a spokeswoman, pointing to the 34.7% year-on-year rise for the brand's 50% Less Sugars product. "Increasingly we are seeing shoppers switch to lower sugar or lower fat alternatives as they look to improve and enhance their lifestyle," she says.

Brands still dominate the table sauces sector, commanding 83.4% of total sales, and their share is growing as the multiples use the strength of household names such as Heinz, Hellmann's and HP to drive home their point of difference from the discounters.

It's a different story in condiments, however. Own label accounts for nearly a third of sales and is stealing share from brands. The biggest casualty of the year has been Haywards Pickles, which has lost £3.9m. "Haywards has lost appeal to the price-conscious shopper, losing share to own label as consumers walk away from paying a premium for a brand that isn't on promotion as much as previously," says Lorna Kimberly, director of marketing at Mizkan Euro.

More deals and new packaging are planned to return the brand to growth.