Don't let that 1.4% decline in pack volumes fool you. Brits are actually buying more batteries in larger packs, as sales of smart home sensors, personal medical devices, high-tech toys and the like go skywards.

"Consumers are buying more multi-packs and promotional packs," says Gareth Wheller, MD of GP Batteries UK. "Secondary sitings are helping to drive additional volume. We'd expect the trend for larger packs to continue as the grocers seek to get consumers stocking up from them instead of seeking products online."
It's paying off, with supermarket sales of batteries up 4.1%, or £9.5m. This growth is also being driven by pricier, longer-lasting batteries designed for high-tech devices such as keyless entry systems and portable powerbanks for mobile phones and tablets.

A prime example is our Top Launch Energizer's Ultimate Lithium Coins (below), which come with an rsp of £6 for a pack of two (versus £4.50 for the older 2032 coin product). You get what you pay for, says Energizer senior brand manager Narbeh Hacobian, who claims the new cells give consistently higher voltage compared with earlier versions.

"Heightened consumer demand for 'smart homes' and 'smart health' is driving demand for speciality batteries and creating new opportunities for retailers," adds Hacobian. "Consumers are increasingly seeking out the most appropriate battery for new devices such as fitness monitors and smart home sensors."

Battery brands are banking on the growth in smart devices for the foreseeable future. Energizer says smart homes across Britain will require 420 million batteries by 2020, while smart health devices will require a further 635 million. With use of hearing aids on the rise across the UK, Energizer has improved the life of its Hearing Aid batteries.

A combination of distribution gains and innovation has driven market-leading growth for Energizer, which is up 14.3% to £64m on units up 6.3%. Meanwhile, number one brand Duracell has seen value sales inch up 1.2% to £122.3m as volumes have slipped 3.2%.

Duracell is pinning its hopes on growing demand for on-the-go juice for smartphones and tablets, having launched a new range of portable powerbanks that can deliver up to 72 hours of continuous charging.

"With only 37% of smartphone users owning a power bank, there is still a huge gap between power bank and smartphone penetration," said marketing manager Tatiana Wijeyaratne at the time of the launch. "This represents an opportunity for a leading brand like Duracell to help meet a consumer need."

GP's Wheller expects more space to be given over to such products as use of mobile devices grows. But this doesn't mean the days of the humble AA and AAA are numbered, especially with toys such as Nerf Laser Ops and Myla the Magical Make-Up Unicorn tipped for big things this Christmas.

"The Christmas sales period accounts for over 40% of the yearly sales of batteries," says Wheller. "As usual, it's no surprise that some of the expected top toys this year are battery-powered." Looks like batteries are charging ahead for the foreseeable future.
TOP LAUNCH
---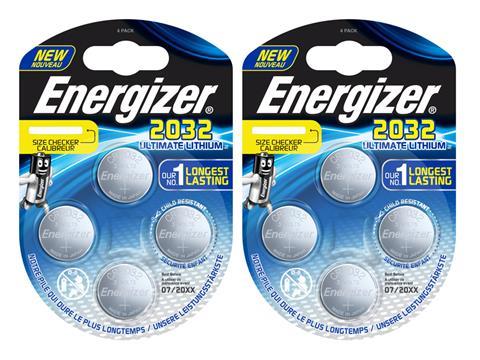 Ultimate Lithium Coins, Energizer
High-tech gadgets need high-tech batteries with longer lives. That's why Energizer launched its longest-ever lasting specialist battery in June, aimed at keeping personal medical devices, smart home sensors and keyless entry systems going for longer. The launch has powered market-leading growth for Energizer, which expects smart health and home devices to require more than a billion batteries by 2020 – and it expects a significant proportion of these to be lithium coins.