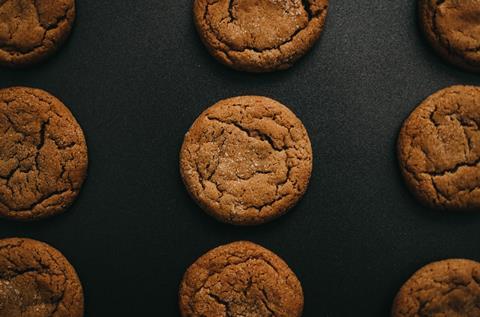 This year has really taken the biscuit. A tumultuous 12 months have seen Brits wolf down an extra 35 million packs of sweet and savoury biccies, resulting in a combined £66.4m gain.
That was driven by consumers wanting to take a break from their travails, suggests Lotus bakeries category & development marketing manager Frances Booth. "Customers are looking for something that provides them with little moments of joy at home, and biscuits do just that."
As such, happiness-hungry shoppers filled their baskets with the familiar names in sweet biscuits, notes Nielsen senior analytics executive Nicholas Corlett. That's been bad news for own-label sweet biscuits, which have lost £15.9m on the back of a 2% volume decline. But it's been a bonanza for some.
"The brands in growth in the last 52 weeks have an element of nostalgia behind them, with the likes of McVitie's Chocolate Digestives, McVitie's Digestives and Kit Kat growing faster than some of the more contemporary brands, such as Oreo and Maryland," says Corlett. "A lot of this growth can be attributed to Covid-19."
So McVitie's won big, raking in an additional £48m as 27 million extra packs went through tills. That's £39.4m and 16.2 million packs more than closest rival Kit Kat (which added an enviable £13.1m).
With winter in full swing, McVitie's will see only more success, wagers Scott Snell, customer VP at brand owner Pladis. "We expect to see an increase in hot drinks moments and a spike in sales for biscuits which best accompany this occasion – particularly across core sub-categories, such as everyday biscuits, everyday treats and chocolate biscuit bars," he says.
That's a sweet prospect for makers of regular and indulgent lines – but less so for healthier brands, which are already struggling in the face of comfort eating.
WW, for instance, has haemorrhaged more than half of its value, dropping £1.9m, while Go Ahead has shed £4.5m (13%). The sector's biggest loss in absolute terms is the £6.3m of Belvita, which has also shed value in its cereal bar range (see table, overleaf).
The misfortune of Mondelez's breakfast-focused range isn't just down to its healthier cues – it's been compounded by the decline in on-the-go and brekkie 'al desko' occasions. Nevertheless, Mondelez trade communications manager Susan Nash insists Belvita is still highly relevant. The breakfast occasion "remains important to consumers, and so category-leading brands remain a crucial part of any range," she says. "This is increasingly important as consumers look for healthier ingredients such as oats and other whole grains that don't compromise on taste."
Belvita is by no means the only brand to have suffered from the decline of on-the-go occasions. The cereal bar sector has taken a £36.1m hit, driven by losses for many of the major brands.
Alpen bars have fallen fastest in percentage terms, by 23.6%. Head of brand Helena Blincow admits this was due to more people working from home, but she remains positive. "Shoppers are still looking for convenient, tasty and nutritious snacks to keep them going throughout the day," she adds. Cereal bars "still have an important role to play".
Kellogg's would agree. It's seen value decline across brands such as Rice Krispies (down 1.7%) and Coco Pops (down 24.2%), but it has begun to see a recovery in multipack sales and plans to work with retailers to boost sales of singles next year.
Savoury optimism
While healthy sweet biccies and cereal bars have suffered, it's a different story in savoury biscuits, where better-for-you options have paid dividends. Take Ryvita, which added a combined £3.2m across its crispbreads and thins ranges, while Nairn's pulled in an extra £1.2m (6.2%) for its oatcakes.
The biggest winner was Pladis brand Jacob's It added £4m and shifted 2.2 million more packs, though not for health reasons. The veteran brand benefited from stockpiling in a unique way, according to Snell. "As a result of panic-buying and consequent shortages, shoppers initially looked to Jacob's Cream Crackers as a bread substitute during the first lockdown," he says.
Now those shortages are a thing of the past, "it's likely that shoppers will seek out healthier baked, flavoured snacks – such as our Jacob's Biscuits For Cheese and Jacob's Savours Flavour Assortment – particularly in the lead-up to the festive season," he adds.
So the savoury biscuits sector ends the year in good shape, worth £17.8m more than last year. But not everyone has won. Rice cake brands Snack a Jacks and Kallo, for example, saw volumes dip by 6% and 2.1% respectively. Again, home working was the problem.
Kallo lost out among shoppers who would have previously taken them to work, says Bryan Martins, marketing & category director at brand owner Wessanen. It's now hoping to claw back value with the launch of a healthier SKU in May – Veggie Cakes made from pea protein, rather than rice. But in this indulgence-led environment, can it pass the crunch test?
Top Products 2020
In association with Nielsen
Top 20 Sweet Biscuits
£m
£ change
%
Total volume change:
1.6%
Total Category:
1715.6
48.6
2.9
Total Own Label:
386.2
-15.9
-4.0
This year's rank
Last year's rank
Brand
Manufacturer
£m
change (£m)
change (%)
1
1
McVitie's
Pladis UK
455.0
48.0
11.8
2
5
Kit Kat
Nestlé
86.9
13.1
17.7
3
2
Cadbury Biscuits
Mondelez
83.2
1.6
2.0
4
4
Fox's
Ferrero
74.8
–3.6
–4.5
5
3
Belvita
Mondelez
72.2
–6.3
–8.1
6
6
Oreo
Mondelez
54.3
5.2
10.6
7
8
Maryland
Burton's Biscuit Co
39.2
0.7
1.8
8
10
Bahlsen
Bahlsen
38.1
4.3
12.8
9
7
Tunnock's
Tunnock's
36.1
–2.8
–7.3
10
9
Go Ahead
Pladis UK
29.5
–4.5
–13.1
11
11
Twix
Mars
29.0
4.2
16.9
12
18
Lotus Biscuits
Lotus Bakeries
20.0
8.8
77.9
13
13
Blue Riband
Nestlé
19.7
2.9
17.3
14
12
Jammie Dodgers
Burton's Biscuit Co
19.2
1.0
5.4
15
14
Border Biscuits
Border Biscuits
15.4
0.2
1.5
16
15
Flipz
Pladis UK
13.5
–0.2
–10.3
17
19
Wagon Wheels
Burton's Biscuit Co
13.2
2.0
18
18
17
Rocky
Ferrero
12.3
0.6
4.8
19
21
Paterson Biscuits
Burton's Biscuit Co
11.4
0.9
8.9
20
22
Nairn's
Nairn's Oatcakes
11.3
1.4
13.9
Top 10 Savoury Biscuits
£m
£ change
%
Total volume change:
2.7%
Total Category:
467.5
17.8
3.9
Total Own Label:
143.3
6.4
4.7
This year's rank
Last year's rank
Brand
Manufacturer
£m
change (£m)
change (%)
1
1
Jacob's
Pladis UK
105.5
4.1
4.0
2
2
Snack a Jacks
PepsiCo
30.6
–0.4
–1.2
3
3
Ritz
Mondelez
21.0
3.4
19
4
4
Nairn's
Nairn's Oatcakes
20.8
1.2
6.2
5
5
Kallo
Kallo Foods
18.5
–0.1
–0.8
6
6
Ryvita Crispbread
Ryvita
18.3
1.9
11.3
7
7
Carr's
Pladis UK
13.4
0.8
6.4
8
8
Ryvita Thins
Ryvita
11.9
1.3
12.2
9
9
Ryvita Crackerbread
Ryvita
6.5
0.5
8.1
10
10
The Snack Organisation
Walter & Wild
5.3
1.1
27.7
Top 10 Cereal bars
£m
£ change
%
Total volume change:
-5.4%
Total Category:
447.1
–36.1
–7.5
Total Own Label:
20.9
–0.5
–2.5
This year's rank
Last year's rank
Brand
Manufacturer
£m
change (£m)
change (%)
1
1
Belvita
Mondelez
52.6
–5.9
–10.1
2
2
Nature Valley
General Mills
47.8
–1.0
–2.1
3
3
Nakd
Lotus Bakeries
33.8
–5.8
–14.6
4
4
Eat Natural
Eat Natural
32.0
–4.4
–12.1
5
7
Cadbury Cereal Bars
Mondelez
30.4
1.7
5.9
6
6
Kellogg's Rice Krispies
Kellogg's
28.9
–0.5
1.7
7
9
Fibre One
General Mills
28.0
5.1
22.2
8
5
Go Ahead
Pladis UK
28.0
–2.1
–7.1
9
8
Alpen
Weetabix
19.2
–5.9
–23.6
10
12
Kind
Kind
17.3
3.1
22
The Grocer's Top Launch
McVitie's reformulation, Pladis
Pladis didn't wait for BoJo's obesity strategy to take a healthier stance. In February, it slashed sugar content across its eight bestselling biscuits by up to 10% – a move it claimed would remove 785 tonnes of sugar from Brits' diets every year. Rather than simply replacing sugar with sweetener, Pladis carried out "a careful re-balancing of ingredients". That means the likes of Chocolate Digestives, Hobnobs, Rich Tea and Ginger Nuts taste "exactly the same when dunked in a cup of tea".