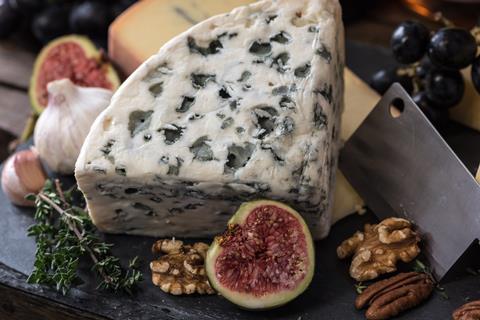 Are Brits falling back in love with cheese? After a sticky few years of melting volumes, a glut of innovation has helped push an extra 1.5 million kg through the tills. That equates to an £11.1m uplift.
Format has been the key here. The majority of block cheese brands have suffered a fall in value and volume sales – see Pilgrims Choice and Seriously, which lost a combined £18.2m.
On the flipside, snacking formats are flying. Dairylea, Mini Babybel, Dairylea Lunchables and Attack a Snak added a combined £16.3m to the category, while Cathedral City and Philadelphia – which both launched new snacking variants in 2019 – contributed a further £10.8m.
According to Mondelez, the winners in cheese are aligning themselves with three key macro trends: the growth of snacking, health and wellness, and a drive for convenience.
"Shopper demand for convenient, great-tasting snacks for on-the-go or at home is growing snacking cheese sectors, while cream cheese enables consumers to make quick, convenient meals," says Susan Nash, trade communications manager at Mondelez International. Consumers also view cheese snacks as healthier than many other options on the market, she adds.
Mondelez brands certainly seem to be reaping the rewards. Dairylea is up 4.3% in value and 2.6% in volume after expanding its Snackers range to include a Cadbury Giant Buttons variant in April. This was the "most successful launch of the year" in snacking cheese, says Nash, with sales topping £2.6m since launch.
Sister brand Philadelphia also benefited from snacking NPD. Its snacks range relaunched in March, and the brand added a Light & Herbs variant to its existing Light & Tasty line of dips with breadsticks. Nash says that innovation added £1m to the value of Philly, which enjoyed a 5.4% increase in value and 4.5% surge in volumes.
Mondelez isn't the only winner here. The Mini Babybel brand, which naturally plays into the snacking trend, was another standout performer. Sales have shot up 17.7% to £57.1m, while volumes are up 18.2% in the mults. That data doesn't even include the effect of its launch into Boots last October. Since placing a 60g net of three in the Boots chillers, Mini Babybel has become the retailer's number three bestselling brand, says group brand manager Gaëlle Vernet. Its success led to the listing of a Light variant in October 2019, she adds.
The brand also invested in innovation. Vernet describes Babybel Mini Rolls, launched in January, as "an exciting fun format designed to appeal to the snacking needs of older kids".
Elsewhere, Kerry Foods enjoyed a 17.4% increase in sales for its Attack a Snak brand to £16.1m on volumes up 22.1%, making it the supplier's fastest-growing brand.
The range, aimed at tweens aged between nine and 13, has become "a staple in shopping baskets of parents looking to give their children an exciting snack", says Kerry Foods marketing director Victoria Southern.
Still, snacking formats aren't a guarantee of high growth. Fellow Kerry brand Cheestrings saw a marginal 0.7% value decrease on volumes up 0.4%. Southern is confident that performance will be boosted by Kerry's decision to bring it under a new Strings & Things masterbrand in March, which also includes a new Cheeshapes brand.
Investment in the masterbrand will help "drive further innovation in the category", argues Southern. It is now a "must-stock item for retailers who want to tap into the demand for healthier snacking alternatives in dairy".
It's certainly in a better place than block cheese. Pilgrims Choice, Seriously, Castello, Davidstow and Wyke Farms have all racked up multimillion-pound losses, as block brands suffer from range rationalisation and a move towards cheaper own-label fare.
The only exception to the rule is Cathedral City, which climbed 2.3% in value and 5.3% in volume. It can't have hurt that it unveiled a raft of NPD this year, including an expansion of its lactose-free range in October with a Nibbles kids' snack and its new low-calorie 82 variant in June (see Top Launch). Marketing controller Nigel Marchant says the "relentless focus on quality has ensured Cathedral City has retained its place in consumers' hearts and minds". But perhaps the most pertinent factor is the brand's 2.9% drop in average price, which has helped it keep pace with cheaper own-label cheeses. Because more expensive brands are suffering.
Take Cathedral City's premium stablemate Davidstow, which has dropped 2.4%. It's been the victim of an "increasingly competitive block sector", says Marchant.
Pilgrims Choice has also suffered a blow – down £6.7m – after average prices rose by 1.7%. Mike Harper, marketing director of parent Ornua, maintains this is the right strategy. "We made a conscious decision to cut down on promotions as we want to do what is right for the category," he says. "We believe in balanced brand growth and not blurring the boundaries with own label."
Granted, it's not the worst loss in the sector. Lactalis McLelland's Seriously took that title with a staggering £11.5m drop as average prices rose 8.5%. Sales director Mike Chatters concedes Seriously cheddar has had a "tough time", compounded by a loss of listings in Morrisons and Asda in England and Wales. However, he stresses the brand is performing well in convenience, while Seriously Spreadable is "driving value into the spreadable cheese market". Lactalis is planning to support Seriously in 2020 with "ongoing media spend, as well as launching a number of exciting new products".
In percentage terms, one of the most brutal drops was seen by Wyke Farms. Previously a stalwart in the mults, Wyke suffered a 27.3% slump to £5.3m, as it fell victim to range rationalisation in cheddar. Its decline reflects a wider shift by retailers away from smaller cheddar brands, says MD Rich Clothier.
"The big supermarkets have work to do on their brand strategies in block cheese. I don't think shoppers want to buy just one brand," he says. "It's a dangerous strategy to remove choice as you lose that point of difference."
Wyke, which is still available in Lidl, Home Bargains and B&M as well as regional Tesco, Sainsbury's and Co-op stores, should still be an option nationally, Clothier insists.
He points out that Wyke is the "only cheese to be manufactured using renewable energy", which should play well with consumers given the climate emergency.
But for now, those points of difference are coming a clear second to price.
The Top Products
In association with nielsen
Top 20 Cheese
£m
change (£m)
change (%)
Total Category:
2477.2
11.1
0.5
Total volume change:
0.5%
Total Own Label:
1386.8
6.7
0.5
This year's rank
Last year's rank
Brand
Manufacturer
£m
change (£m)
change (%)
1
1
Cathedral City
Dairy Crest
270.8
6.2
2.3
2
2
Dairylea
Mondelez
96.5
4.0
4.3
3
3
Philadelphia
Mondelez
90.9
4.6
5.4
4
4
Pilgrims Choice
Ornua Foods
67.1
-6.7
-9.1
5
6
Babybel
Bel
57.1
8.6
17.7
6
7
Cheestrings
Kerry Foods
46.3
-0.3
-0.7
7
5
Seriously
Lactalis
38.5
-11.5
-23
8
8
Dairylea Lunchables
Mondelez
31.7
1.3
4.4
9
9
The Laughing Cow
Bel
24.5
-2.6
-9.5
10
10
Castello
Arla Foods
20.1
-1.1
-5.3
11
11
Leerdammer
Bel
18.2
-1.0
-5.1
12
14
Primula
Kavli
17.8
1.6
9.7
13
12
President
Lactalis
16.8
-1.6
-8.5
14
13
Galbani
Lactalis
16.6
-0.4
-2.2
15
16
Attack A Snak
Kerry Foods
16.1
2.4
17.4
16
15
Saint Agur
Savencia F&D
15.3
0.2
1.5
17
17
Boursin
Bel
13.5
1.6
13.7
18
19
Violife
Arivia
13.2
3.2
31.9
19
20
Le Rustique
Savencia F&D
10.1
0.3
3
20
18
Davidstow
Dairy Crest
10.0
-0.2
-2.4
The Grocer's Top Launch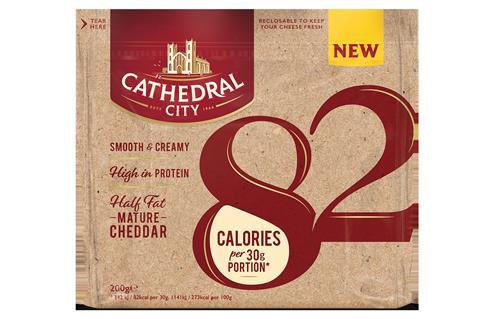 Cathedral City 82 by Saputo Dairy UK
Taste and low-cal are not typically happy bedfellows for cheddar. However, Saputo Dairy UK (which rebranded in July from Dairy Crest) insists its cheese provides just 82 calories per 30g portion without compromising on taste. Taking pack design cues from healthier ice cream sensation Halo Top, Cathedral City wants drive to focus away from 'reduced fat' towards permissible calorie messaging. That said, this mature cheddar contains half the fat of regular cheddar.