The Grocer's 2017 Top Products Survey, THE definitive guide to the current state of the UK's grocery industry
The drought has ended for Britain's (and the world's) biggest soft drinks brand. After losing £99.2m in grocery in the past three years (it's not grown in this report since 2013), Coke is up £27.7m (2.5%) on volumes up 1.4%.

In June Coca-Cola European Partners reformulated, renamed and reinvigorated sugar-free Coke Zero. The new Coke Zero Sugar is responsible for all Coke's growth this year, having racked up an extra £39.3m. Indeed, if we were measuring Zero Sugar as a brand in its own right, it would be the second fastest grower in this report, after Bud.
The significance of the timing of all this isn't lost on anyone. In April, the sector will face the biggest legislative challenge in its history: the sugar levy. CCEP points out that relaunching Zero and putting it to the fore in its ads is the continuation of a process that began in 1982 with Diet Coke's launch, but there can be no doubt that the mammoth tax bill Coke now faces has given fresh impetus.

"Coke Classic remains the biggest soft drink brand in the UK, worth over £575m," says CCEP marketing director Simon Harrison. "But we also have two brilliant brands in Diet Coke and Coke Zero Sugar. The mix will change. We think the UK will be the first market to see larger share for Diet and Zero Sugar combined than Classic. That's fine by us."

Small wonder, as CCEP would owe the taxman £121.3m had the half a billion plus litres of Classic sold by the supers this year been subject to the 24p/litre levy. Pushing sugar-free options hasn't been CCEP's only tactic in anticipating the levy; it's also pushing higher margin formats such as 33cl glass bottles. Hence why Classic's value is down just 0.1%; volumes are down 2.4%, or 15 million litres.

Coke has kept a tighter lid on prices than Pepsi. Coke's average price is up 1.1% (Zero's average actually fell by 3.6%), while Pepsi sold for an average of 10.5% more than in 2016. Britvic GB commercial director at home Phil Sanders attributes this to "inflation and foreign exchange movements".

Overall, the average price of carbonates is up 3.4%. "This is driven by key products increasing price and also decreasing promotions," says Nielsen senior client manager Laszlo Zsom, adding that 52% of cola was sold on deal this year versus 59% last year.

Growth in on the go is also pushing prices up and driving energy drinks' gains. CCEP's Monster is up £31.3m (22.9%), driven by full and zero-sugar lines. Red Bull is up £15.3m (5.6%). Category development manager Rich Fisher puts this down to its functional claims (or wings). "Functional products delivering added value continue to be popular," he says.

Just as well. Red Bull would owe the taxman £13m-plus if the levy were in now.
TOP LAUNCH
---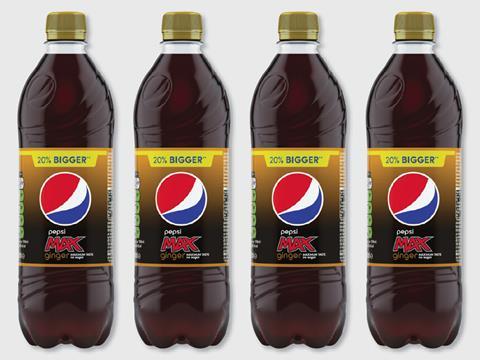 Pepsi Max Ginger by PepsiCo
Mock Pepsi's ginger offspring at your own peril. The stuff is flying off the shelves so fast you'd think it had a chip on its shoulder. The bevvy's zero-sugar credentials have won it a place in the hearts of progressively healthier shoppers: it's racked up almost £5m in value sales already. While sales of flavoured cola are surging across the board (up a cool 15.6%), the second biggest launch of the year, Coca Cola Zero Vanilla, only achieved approximately 60% of Pepsi Max Ginger's sales.