Covid, Brexit costs and shortages in labour and material have caused chaos in grocery this year. Which sectors are best placed to deal with the inflationary storm on the horizon in 2022?
The UK's food and drink industry this year has been forced to weather a storm of Covid-related restrictions, as well as shortages of workers and materials, rising input prices and general uncertainty.
In the first half of the year, the pandemic kept shoppers indoors, working remotely and cancelling all but the most essential trips outside. Visits to supermarkets were limited. Freezers stayed fully stocked and makeshift mini bars in plentiful supply.
As an increasingly frustrated hospitality industry remained closed, delivery drivers had never been busier. Deliveroo, for instance, doubled orders in the first six months of 2021, dropping off 148.8 million takeaways to bored Brits in the six months to 30 June.
In the second half of the year, that changed. From 17 May, the prime minister announced a significant easing of restrictions. pubs, bars and restaurants could open again for the first time in months. Calendars were dusted off and meet-ups with friends and family pencilled in. The travel sector slowly began to wake up.
All of which had a huge impact on what, when and why consumers shopped for food and drink. So, how exactly has this seismic year been captured in The Grocer's annual Top Products Survey? And given the significant supply chain pressures and dampening consumer sentiment in more recent months, how might this expenditure evolve in the year ahead?
Simply put, in the 52 weeks to September 2021, UK shoppers continued to spend more on food and drink than pre-pandemic. Overall value sales grew 3.3% to £123.9bn, with 51.8% of the 112 sectors captured by NielsenIQ in growth.
Yes, that slightly pales in comparison to the 8% increase in fmcg retail spend The Grocer reported for 2020, when lockdown fuelled growth in 78% of markets, but it represents a 6% increase on 2019, points out Mike Watkins, head of retailer & business insight at NielsenIQ.
It also reflects a slow return to normal spending habits by Brits, even once the economy began to reopen. An end to lockdowns did spark an initial boost to out-of-home food and drink – and during the first week of hospitality reopening, sales at UK supermarkets were down 6.7%, according to NielsenIQ data. Plus, average spend per supermarket visit decreased by 19%.
But even before the latest restrictions were introduced in the government's 'plan B', sales have been "remarkably strong for the supermarkets", adds Watkins. With only "a slow return to hospitality, OOH spend and travel… that suggests some of the behaviours are sticking".
Covid legacy
The impact of that slow return to normality – or lingering Covid legacy – has been twofold. First, in terms of which channels shoppers are selecting for their groceries in the last year, and second, what they're choosing to drop in their baskets.
On channels, online remains at around 12% of grocery spend. That's a drop from the peak months during 2020 but still almost double levels prior to the pandemic. Ninety per cent of British online grocery shoppers said they planned to continue the habit even after the pandemic passed, according to a May 2021 survey by Mintel.
There's also the emergence of quick commerce operators – the likes of Zapp and Getir – which gained traction during the pandemic with their promise of small basket deliveries in as little as 10 minutes. They're already used by 13% of UK shoppers, according to IGD.
Less frequent shops remain the norm, too. "Our ShopperVista data reveals that shoppers are conducting two less shopping trips per month compared to two years ago, with the biggest decline in trips to large stores," says Naomi Kissman, strategy & corporate affairs director at IGD. "As has been widely reported, online shopping trips have increased, but these are being driven by increased use of non-traditional online food and grocery stores, for example Amazon and other quick commerce operators."
On the product mix in baskets, meanwhile, there have been some significant shifts from last year. While 2020 was shaped by a big spend on booze, frozen food and higher-value grocery items such as nappies, this year's top performers are an eclectic mix, with fish (up £131.1m), chocolate confectionery (up £147.7m) and energy drinks (up £205.5m) among the fastest growers.
"The basket mix has changed because our lifestyles have changed," sums up Watkins. "We've never had such a dichotomy of shopping spend between one year and another."
Each category has its own multifaceted drivers of growth or decline, of course. But broadly speaking they echo this big demarcation of the past 12 months. In short, some categories continued to benefit from the persistent lockdown habits of the first half, and others by the slow return to some semblance of normality in the second half.
"Christmas will be a much bigger full-price event as promotional levels are at their lowest in the grocery sector"
On fresh fish, for example, "retail has benefited from the slow recovery of foodservice, as consumers continued to dine in by enjoying species commonly associated with eating out" says Richard Watson, market analyst at industry body Seafish. Large supplies of cheaper salmon were also pivotal.
The combination has transformed the fortunes of the fish category, Watson adds, which has seen "declining volumes and inflation driving up average price" for the past decade. "The slow rebound of foodservice and return to the workplace has helped seafood sales remain over 10% higher than pre-Covid in mid-2021."
Roast & ground coffee (up 44%) has also grown off the back of lockdown habits, with consumers seeking to create OOH experiences in the comfort of their homes. That's expressed by the 37.4% value sales growth in a Starbucks lineup launched by Nestlé in 2019.
Longer established operators like Lavazza (up 4.2%) benefited from the trend too, with the brand's research showing 44% of roast & ground coffee drinkers invested in new equipment since March 2020.
"While there is an expectation to return to out-of-home consumption, it is expected that in-home consumption will still be higher than prior to lockdown, as we have become accustomed to making a better cup of quality coffee at home," says a spokeswoman.

Back to work
A gradual return to commuting and busier schedules has buoyed chilled ready meals. The category has attracted £80.4m in additional sales, driven largely by a 15.9% increase from brands – quite the reversal of fortunes compared with the £74m decline in last year's figures.
In chocolate confectionery, the growth drivers are more mixed, with less disruption to Easter celebrations and sustained consumer demand for at-home indulgence in the first half of the year, followed by a boost for grab-and-go formats in the second half.
That's pushed up value sales for both industry heavyweights like Galaxy (8.4%) and Lindt (21.7%) as well as relative newcomers like Tony's Chocolonely (115.6%). All despite the looming threat of new HFSS restrictions set to affect about 97% of the confectionery category.
Other success stories, such as Meat alternatives (15.1%), speak to macro trends that have only accelerated during Covid. "Health, convenience and taste are the drivers for this, but shoppers are now also increasingly recognising the need for more sustainable diets that are less harmful to the planet," points out Gill Riley, marketing director at Quorn Foods. "The climate crisis is high on the agenda at the moment after COP26 and consumers are looking for ways to become more sustainable to protect our planet."
Though Quorn, as the market leader, saw its own value dip 7.2%, it insists this is a reflection of the soaring popularity of the category.
"The market has become very busy, with lots of new innovation penetrating this space throughout the last 12 months, and exciting new products are key for enticing meat reducers into the category," says Riley.
Food inflation
The thread through nearly all categories in growth though is a continued willingness among UK shoppers to spend more on groceries, even once restrictions had eased in spring and summer 2021. And without the need to drive up volumes, brands and retailers were able to keep promotions low, at just 20% of purchases according to Nielsen. Two years ago, it was 26%.
"You've got the pent-up demand of humans wanting to celebrate," says Paul Martin, head of UK retail at KPMG. "There's been a traffic jam of festivities over recent months. We also know that the UK consumer saved about £150bn of disposable income over the course of the last 18 months.
"At the moment, with inflation only creeping up, the consumer technically has more money and wants to party. Therefore, there is absolutely that positive driver of demand. What we will see is that Christmas will be a much bigger full-price event as a result, as promotional levels are at their lowest in the grocery sector."
But that demand will eventually dissipate, and consumer sentiment will likely change over the next year – particularly given a backdrop of supply chain pressures that some experts are predicting could send food inflation up by double digits in the coming months.
Grocery has been grappling with these pressures for many months, of course. At one end, Covid-related disruptions and global geopolitical events have pushed up the cost of commodities, with farmgate food prices at their highest level in over a decade, having risen by 30% in the last year, according to the United Nations' Food & Agriculture Organization (FAO).
Then there has been the huge – and often high-profile – squeeze on logistics and transport over the past 18 months. In March 2021, for example, the blocking for six days of the Suez Canal, the route for 12% of global trade, caused significant, ongoing issues, explains Natalie Chapman, head of policy at Logistics UK. The knock-on effect was traffic jams at ports without the capacity to process enough vessels at once. This was amplified by the closure of key ports as a result of Covid.
"Plus, we have just-in-time delivery and manufacturing [in grocery], so we don't stock and warehouse the inventory we used to," says Chapman. "That means these events cause a much bigger ripple effect, with the potential to create fragilities in the supply chain."
As a result, the price of both shipping containers and air freight has increased. And, even once product has made it to UK shores, suppliers, wholesalers and supermarkets have faced a lack of vehicles (due to a global semiconductor shortage across the automotive industry) and workers – be they HGV drivers, butchers or frontline retail staff.
"I run a small group of private label manufacturers, and when asking them about the main source of cost pressures, one told me 'everything I touch'," says Richard Harrow, UK partner at IPLC and CEO of the British Frozen Food Federation. "It's come in waves. In the middle part of the year we started to see container prices increase. Then raw materials. Then packaging cost pressures. It has just built up."
Labour shortage
In August, a report commissioned by the NFU, working with 11 other major trade bodies, found that more than half of all current vacancies in the UK were in sectors related to the food and drink industry. It estimated there were over half a million vacant posts across farming, food production and distribution, as well as retail and hospitality.
Ian Wright, outgoing CEO of the Food & Drink Federation, says the labour shortage is "feeding into significant supply chain disruption such that we're now seeing in both retail and hospitality service levels of 80%, with one in five products simply not arriving on time or sometimes not at all".
And KPMG's Martin tells of how one retail CEO said in November that they still had 1,100 temp vacancies to fill for Christmas, "while another was telling me for their main distribution centre they ramp up from 200 to 900 employees in the final four weeks [before Christmas]. They were 500 short at that point in time," he says.
So far, the biggest impact for consumers of all this disruption has been changes to availability on shelf. According to IGD research, 68% of UK adults said they'd experienced shortages of groceries either in-store or online during November, with the lack of savoury snacks (23%), fresh produce (21%) and bakery (15%) striking the biggest chord. This is down not only to delayed deliveries but also range rationalisations.
Amid a range of supply challenges for meat and dairy in both logistics and processing, the availability or otherwise of certain Christmas lines has been a particular focus for the meat sector says David Swales, head of strategic insight at AHDB. The fact that products have remained available for shoppers "while vacancy rates for skilled labour within processing is around 15% to 20%, is thanks to processors offering a smaller range of products, such as fewer pre-prepared products, while seeking export opportunities for whole carcass or larger cuts". Kissman agrees. "Businesses have responded by simplifying their ranges, reducing promotions and new product development," she says.
However, what the majority of retailers and suppliers have yet to do, at least in the 52 weeks to 11 September 2021 captured by the Top Products data, is translate higher input costs driven by supply chain challenges into higher on-shelf prices for consumers.

Price inflation
Instead, "supermarkets [and suppliers] have generally been absorbing any cost increases" says Kyle Monk, director of insight at the BRC. This is partly as a result of lessons learned during the 2008 economic crisis, he believes, when price increases paved the way for the discounters to march in and grab market share.
This time, when it comes to pushing up prices, "it's not something that anyone wants to do and there's a reticence to be first, too", he says. "They've done everything in their power to avoid having to do so, despite rising cost pressures."
Therefore, adds Duncan Brewer, retail partner at EY-Parthenon, "supermarket brands will continue to look to their suppliers to lower costs, optimise their operations to reduce their running costs and try to absorb as much of the price rises as possible".
However, he goes on to warn that "price rises are inevitable over the coming months".
This has been echoed by stark warnings from some major brand owners and retailers. In October, Unilever said "elevated levels" of cost inflation would see it raise prices across its own portfolio. Kraft Heinz said much the same. Iceland, Tesco and Co-op have also delivered similar predictions.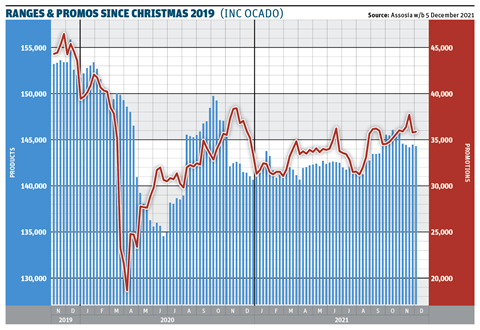 Inflation is already feeding through into the latest figures. In November, grocery inflation rose to 3.2%, according to Kantar – the highest rate since June 2020 (when the elimination of promotions was at its peak). The combination of inflationary costs along the supply chain, including rising energy and fuel prices, and supply shortages, suggests further price hikes are an inevitability.
As such, manufacturers are working out, SKU by SKU, cost line by cost line, how to push through price hikes. "I know of four or five examples where a company is looking at every single SKU, considering where does it come from, how profitable is that SKU, how quickly does it turn, the entirety of the cost," says KPMG's Martin.
"You'll likely work out that 20% to 30% of the products you sell are just not going to make you any money, so that means we'll see quite a significant range reduction. We'll see a very significant culling of ranges, and more and more intelligence around pricing."
Exactly how much cost will be passed on to consumers isn't clear. Nor is exactly how they'll respond.
After all, consumers are facing their own set of inflationary pressures. The Consumer Prices Index has risen from 0.4% in February to 3.1% in September, consistently above the Bank of England's target of 2% since May, points out Nick Hoenig, supply chain management consultant at Capgemini Invent.
In November, it was 4.2%, its highest rate in nearly 10 years, largely thanks to higher energy bills. All this against a backdrop of ongoing uncertainty around the post-Covid financial outlook. As a result, consumer confidence slid in October to its lowest level since February, according to Bank of England data – though there was an unexpected uptick the following month.
Declining loyalties
In the coming months, this means "people are going to be a lot savvier with what they buy and where" predicts Monk. "They might split baskets and go further to find items they want if their local grocer doesn't have them. We know that loyalty is lower than at any other time in the last 10 years, both in food and non-food."
"We can expect shoppers to start shopping differently to mitigate these rises, with some tactics including buying smaller pack sizes, cooking from scratch more, planning their meals better and wasting less, splitting their shops between retailers to get the best value [and] switching more from brands to private label products," adds Kissman.
For both brands and retailers it will be critical that they think carefully about how they explain any price changes to their consumers, says Mark Dodds, chair of the Chartered Institute of Marketing Food, Drink & Agriculture sector interest group.
"There is no doubt that many food prices will rise in the next six months and brands will need to be careful in explaining the reasons why this is happening," he says. "As a nation, we have been used to cheap, high-quality food, and this cannot be sustained with the massive increases in cost pressures."
Martin draws an analogy with dynamite, which comprises "six individual chemicals" he says. "Take those in isolation, it may be unpleasant but not explosive. But put all six together and you get a very loud bang.
"It's not dissimilar to the situation we're facing. Put all these pressures together, with a global health pandemic on top and an industry facing structural change…"
And, well, bang.