Inflation across the big four supermarkets has risen slightly - driven by less generous festive booze promotions.
Average inflation - as measured by The Grocer Price Index - crept up from 1.89% on 1 November to 2.08% on 1 December, bringing to an end five consecutive months of declining inflation.
In October, inflation continued to fall as the supermarkets began cutting booze prices earlier than ever. Led by Asda, which slashed booze prices by 4.5% month on month in October, the early festive price cuts helped depress average inflation to below 2%.
Over the past month, alcohol promotions again had a significant, but this time opposing, effect. Although alcohol prices fell 2.2% month on month on top of a 1.2% decline the previous month, the cuts were not as generous as they were last year. Indeed, alcohol prices were 2.9% higher year on year.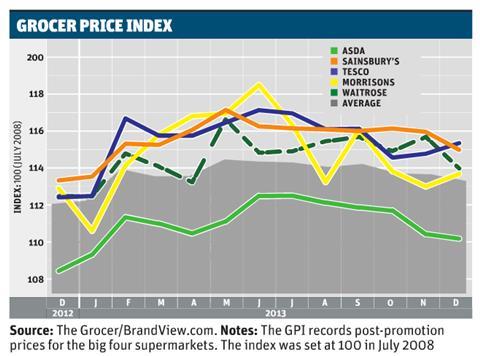 Tesco, in particular, offered smaller discounts this year. Despite cutting booze prices by 2% month on month, prices were 3.9% higher than they were a year ago. The higher year-on-year booze prices helped stoke overall inflation at Tesco - which, at 3.2%, is significantly higher than at rivals.
By comparison, Asda's inflation was 2%, and at Sainsbury's and Morrisons it was 1.8% and 0.9% respectively. Waitrose's inflation stood at 1.6%.
In its first note on Tesco this week, Bernstein highlighted the deterioration in Tesco's competitiveness on price in recent years. "Tesco is not value, not quality, just everywhere," said Bernstein analyst Bruno Monteyne. "Tesco has raised prices faster than anyone else, losing its value credentials."
Bernstein estimated that Tesco went from being within 1% of Asda's pricing four years ago, to between 5% and 9% adrift today. The GPI also shows the gap between Tesco's and Asda's pricing has widened. Since July 2008, Asda's prices have climbed 10.2%, whereas Tesco's have risen 6.6%.
Apart from alcohol, the only category showing inflation above 3% across the retailers was meat, poultry and fish. Checkout prices were a whopping 6% up on last year as a result of last year's long winter pushing up production costs and the horsemeat scandal increasing demand for UK meat and putting pressure on supply.
Inflation has also been high this year in fruit & veg after some crops were affected by the cold weather earlier in the year. However, fruit & veg inflation dropped to just 1.3% in November as some crops benefited from the better weather this summer.
UK milk prices pushed up by falling production
Milk prices in the UK have risen 12.2% over the past year because of a drop in milk production. In the 12 months to the end of September, milk production was down 2.6% year on year. It's a similar picture for cheese and butter, where falls in production have also pushed up prices.
Production shortfalls have driven up the price of key dairy commodities too, with EU prices for skimmed milk powder currently up 22.4% year on year and 0.4% month on month. Production in France - which accounts for 28% of the EU's output of SMP - has fallen 16.2% over the past year, driving up prices.
Meanwhile, egg prices continue to fall: egg yolk powder in the EU is down 27.8% year on year and 0.4% month on month as production has been ramped up in the run-up to Christmas. The price of shell eggs for processing has fallen even more sharply, by 28.5% year on year and 2.9% compared with last month.