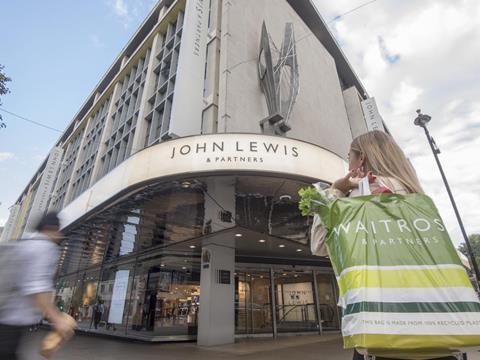 Top story
John Lewis Partnership is to launch a host of new services to move the group "beyond retail" as it seeks to reach £400m profit within five years.
Unveiling the group's long-awaited strategic review this morning, chairman Sharon White said the plans will help the group "thrive for the next century, as it has the last".
Plans include a pledge to grow Waitrose's delivery capacity beyond 250,000 orders per week, up from 55,000 before the pandemic, to give customers greater convenience. To attract new customers, it also plans partnerships like the trial with Deliveroo, which delivers shopping in 30 minutes.
Waitrose also continue to emphasise value for money and "ensure that customers feel recognised and rewarded for shopping with us". It said this will reinforce fair value to broaden our appeal to more customers, "recognising shoppers are especially cost conscious at the moment".
The group has pledged to launch "inspirational new services" like rental, recycling, savings, insurance and private rented and social housing.
It is also focussed on the expansion of digital, virtual and delivery services to get closer to customers – such as personal styling, home design and the John Lewis Virtual Christmas shop.
The group is targeting 40% of our profits from new business areas by 2030.
It is committing £100m over five years to quadruple its financial services business and the Partnership credit card, while announcing the launch of a new home insurance product.
It has also identified 20 sites that could be used to benefit local communities by providing quality and sustainable housing, while providing a stable income for the Partnership.
The ultimate aim is to see profits reach £200m in the next two years and £400m by 2025.
It is committing £1bn over five years to accelerate its online business and transform our shops.
However, this will be funded by saving £300m per year by 2022, through making operations and head offices simpler and more efficient.
Sharon White, chairman of the John Lewis Partnership, said: "We've seen five years of change in the past five months and Waitrose and John Lewis have responded with great agility. Our plan means the John Lewis Partnership will thrive for the next century, as it has the last."
"We're adapting successfully to how customers want to shop today, while showing the Partnership is improving lives and building a more sustainable future. We'll share our success with our customers, Partners - who own the business - and our communities."
Nina Bhatia, executive director of strategy & commercial development at the John Lewis Partnership, said: "This is a bold plan to grow our business and get us much closer to our customers. Waitrose and John Lewis are two of the country's most trusted brands and we'll offer the best products and customer service on the high street and online."
"We're creating new inspirational services for customers where strong ethical values and peace of mind matter, like reusing and recycling products, personal savings and rented housing. Our plans will firmly establish Waitrose and John Lewis as the go-to brands for customers that care about quality, value, and sustainability."
Meanwhile, the partnership announced it will extend its partnership between Waitrose and Deliveroo to a further 25 shops that will join five other stores in the current partnership. It is also in discussions with Deliveroo about joint community initiatives.
It also brought forward its pledge to be net zero carbon by 15 years to 2035.
Waitrose will source only from net zero carbon farms in the UK by 2035. And in addition to its commitment to halve food waste in our own operations by 2030, it has today extended this to its supply chain too.
Morning update
French spirits group Rémy Cointreau has announced it has acquired a majority stake in Champagne producer J. de Telmont.
The deal includes its brands, inventory, production facilities and property assets on its estate as well as vineyards in the Champagne region.
Founded in 1912, this century-old family-owned champagne house is located in Damery, near Epernay. Alongside the Rémy Cointreau group, Bertrand Lhopital, a fourth-generation member of the founding family, will continue the work begun with his team both upstream (vineyard/sourcing) and in champagne production "to perpetuate the estate's expertise and family tradition".
Eric Vallat, CEO of Rémy Cointreau, commented: "We're delighted to welcome J. de Telmont champagne into the Rémy Cointreau Group family of wines and spirits. This acquisition adds to the Group's portfolio a craft champagne brand that offers tremendous growth potential and shares the same values of terroir, people and time as its other Houses."
On the markets this morning, the FTSE 100 is back up 1.2% to 5,904.8pts after yesterday's slump.
Risers this morning include AG Barr, up 3.6% to 476.5p, Just Eat Takeaway.com, up 3.3% to 9,918p and Ocado Group, up 3% to 2,474p.
The day's fallers include Applegreen, down 4.9% to 290p, Glanbia, down 2.9% to €8.65 and Marston's, down 1.5% to 43.5p.
Yesterday in the City
The FTSE 100 slumped 1.7% to 5,832.5pts yesterday as mounting concerns about a second wave of the coronavirus outbreak hit stock market sentiment.
Domino's Pizza Group plunged 8.6% yesterday back to 340p despite posting a strong rise in third quarter sales as investors marked the shares down because that sales increase came from pricing and the government's cut to VAT while order numbers fell during the quarter.
Food to go player Greencore dropped 7.8% to 96.3p, McColl's was down 4.2% to 20.7p, Devro lost 3.9% to 164.4p, CCEP dropped 3.7% to €33.42, Bakkavor fell 3.7% to 63p, Cranswick was down 3.7% to 3,382p and Associated British Foods fell 3.5% to 1,730p
The few risers included Just Eat Takeaway.com, which was up 2.1% to another all-time high of 9,598p after posting a huge rise in third quarter order numbers on Tuesday.
Other risers included Pets at Home, up 1.4% to 409p and Greggs, up 1% to 1,314p.