Step aside Gwynnie, there's a new celeb wellness guru in town. Last year, eldest sister of the Kardiashian family, Kourtney, unveiled lifestyle brand Poosh to declare what you should be eating, wearing and spreading on your face in order to 'unlock your best life'.
Articles ponder important issues such as: at which stage of the lunar cycle should I clean my house? And, how do I do a DIY deep cleanse on my armpits? But there's also a lot of advice on food and drink. Since pretty much anything a Kardashian endorses turns to gold, it's worth keeping an eye on the foodie trends Kourtney is Pooshing. Here's our pick:
Organic wine
View this post on Instagram
"Organic wine is better for your body and the environment," opens the first of two articles on Poosh dedicated to promoting natural, organic and biodynamic wines. Pull The Cork's head of hydration James Nathan says KK is bang on: "Organically grown grapes that are made into organic wine are grown without the use of pesticides, fungicides, herbicides or chemicals, all of which are not just detrimental to our own health, but the health of the planet too."
According to Nathan, compared with standard wines, organic wines contain up to 80% more resveratrol, a polyphenol that is said to help lower cholesterol, reverse arterial damage and even cause "cellular suicide" in cancer cells.
There's currently a wide range of organic wines on supermarket shelves but here are a few wineries, recommended by Poosh, whose bottles are only available from specialist retailers:
Château de Brézé
Lamoresca
Case Corini
Agnanum
Alessandro Viola
Maca powder
Poosh thinks of everything, including a list of snacks to eat prior to having sex. The site has several pre-sex snack suggestions, including the famously arousing handful of seeds, but the top recommendation is pulling out the blender and whipping up a maca smoothie before you get down to it.
"It's a nutrition superfood," writes Poosh nutritionist Cara Clark.
"[It's] also amazing for emotional health and mood stabilization. Maca is great to enhance your sex drive. Read: heightened libido."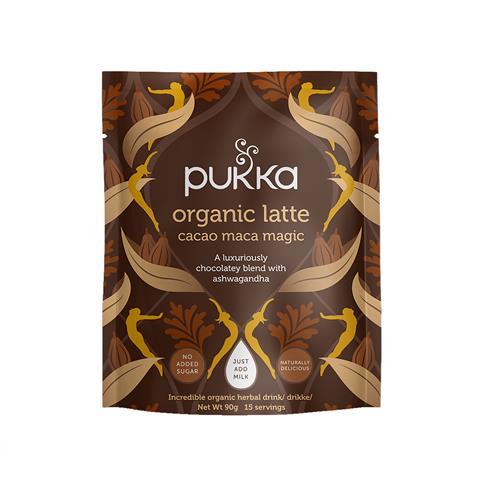 Health shops have had maca powder on shelves for a long time but it has only moved into supermarkets in the past couple of years. In 2018, Pukka Herbs secured national listings in Tesco for its Maca Magic Latte powder and the herb has also crept into own-label products, such the cacao and maca milled flaxseed from Waitrose, which is designed to top porridge or be blended into a smoothie.
Collagen
View this post on Instagram
Kourtney is such a fan of this ingredient that Poosh's first tie-up with a brand was a line of endorsed collagen drinks from US-based supplement company Vital Proteins. Pink Moon Milk Collagen latte and Blueberry & Lemon Collagen Vibes are available from the Poosh online store for a cool $49 and $40 respectively.
In an article headlined simply 'Collagen is a vibe', Kardashian tells of her morning routine of prayers, positive vibes and a protein drink and says: "I notice a glow in my skin, my hair is healthy, and my nails are so much stronger.
"It also helps my body recover more quickly from my intense workouts by supporting my bones and joints."
Vital Proteins didn't respond to The Grocer's request for comment about its plans for the UK, but its collagen peptide supplements are available on Amazon and in Holland & Barrett and Planet Organic stores. Of course, Poosh.com offers an international shipping option for those in the market for Moon Milk.
Chlorophyll water
View this post on Instagram
This tip is brought to us by Poosh wellness expert Stefani Beckerman.
Beckerman, after inexplicably talking about failed relationship, tells us chlorophyll water can eliminate potentially harmful toxins from, wait for it…your soul. If you're mostly focusing on removing toxins from body parts that exist, she also mentions that it rids "bad stuff" from the liver. Phew.
Now for the science bit. Beckerman explains that chlorophyll is responsible for absorbing light during photosynthesis in plants and thus delivers the solid explaination: "Photosynthesis is what creates energy. It converts light into energy. Light creates positive energy. Positive energy makes you feel good."
Not surprisingly, each of these articles come with a small print disclaimer at the bottom stating that the content is "for information purposes only" and is "not a substitute for professional advice and consultation, including professional medical advice and consultation".
Now we've been completely sold on the definitely real benefits of drinking chlorophyll, where do we get it? Getting a hold of pre-made chlorophyll water in the UK is still tricky (unlike in the US, where trendy brands like Verday are widely available in various flavours) but health stores do stock supplements and powders that can be mixed into water at home.