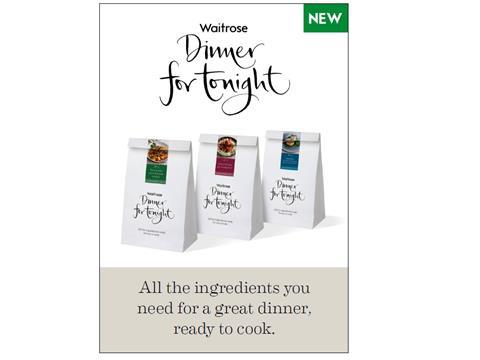 Waitrose has abandoned its Dinner for Tonight meal kits following a trial in 20 stores in October.

The kits with recipes designed by Waitrose chefs will not return for a wider rollout, MD Rob Collins told The Grocer.

Waitrose will instead look to offer more meal solutions at its meat and fish counters, he explained.

"There were two strands of the trial - the kits and then the service counters, which were enhancing the meat and fish offering by putting in herbs and sauces. We've found the latter is working better for us than the former," he said.

In January, a Waitrose store manager said the trial in her Oxford store was proving popular with customers and the counters were "really busy".

Waitrose introduced its meal kits, which provided ingredients for a meal for two at prices from £8 to £12, shortly before Tesco trialled a similar offering in its stores in November.

Tesco rolled out 12 recipe boxes in selected stores for a price of £8 each and has only just finished the trial. It has so far declined to comment on whether it will roll out the products on a wider basis but told The Grocer today the trial had gone "really well" with "great" customer feedback.

Waitrose's decision to focus on its counter offer comes as it prepares to ramp up its store renovation programme this year. The programme will see the installation of new counters, improved lighting and flooring, plus open kitchen concepts in selected stores.

The retailer unveiled its third open kitchen, which serves hot food for breakfast, lunch and dinner, in its Chandler's Ford branch today.