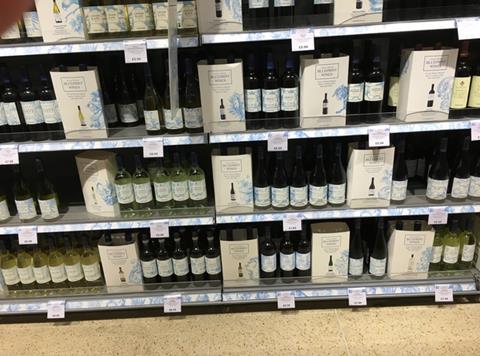 Waitrose has launched a range of own-label wines including half bottles for a "midweek evening meal".

The Blueprint range includes 38 wines, six of which come in a half-bottle size of 37.5cl.

The range is aimed at the mid-tier market, with full bottle prices ranging from £5.99 for a South African Fairtrade Merlot to £12 for an Amontillado fortified wine.

The collection has one prosecco, one rosé, two fortified, five red and five white wines, and is a mix of New and Old World.

Waitrose said the Blueprint brand had created "a strong group identity for the wines, with beautiful blue and white labels that really stand out on shelf".

Waitrose has been steadily increasing the profile of its wines, with the introduction of more wine bars and wine fixtures in stores, plus a 25%-off wine promotion in September.

English wine has proven a particular success for the retailer, which in April announced it would increase wine production at its Leckford vineyard by 50%.

In July, Waitrose took aim at the high-end market with the launch of a premium bag-in-box wine range of four SKUs.