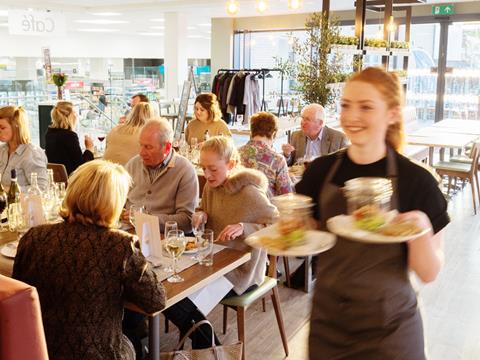 Waitrose is expanding its in-store supper club initiative to 42 more stores between now and March 2019.

The upmarket grocer is offering the events to around 1,300 more guests through this extended rollout.

Menus are created using ingredients available at Waitrose supermarkets, cooked by professional chefs and served with accompanying wines selected by its wine specialists. Future menus will include vegan, vegetarian and free-from menus, while choices on offer at previous supper clubs included African and Thai-themed dishes.

The concept was created with social dining platform WeFiFo, short for 'we find food,' after it won the John Lewis Partnership's retail tech innovation programme for startups, JLAB, last year. WeFiFo was awarded £100k in investment and access to expert advice and support, and now hosts and organises the supper clubs for Waitrose.
Seven have already taken place on a trial basis at Waitrose branches including Haywards Heath, Horsham, Newbury and Salisbury for between £35 and £45 per head. Another took place at its Finchley Road in an alternative format, which included five courses and interactive elements for £85 per person.

The price per guest for the 42 new supper clubs will be determined by the chef and WeFiFo after considering the menu on offer. Waitrose is also looking into offering a wider price range for the events, including a lower price point, a Waitrose spokeswoman said.

"Our supper clubs are one of the many ways we're bringing innovative and unique services to our customers which aren't provided by other supermarkets," said Waitrose head of hospitality Rebecca Hemsley. "These events not only showcase the talented chefs we have here in the UK, but also what's available in our shops. It's a fantastic opportunity for guests to enjoy new dishes and be inspired to recreate them using ingredients they may not have tried before."

WeFiFo CEO and co-founder Seni Glaister added: "We believe passionately in our mission to bring people together with food and to combat social isolation through eating together. Our partnership with Waitrose will bring new audiences, talents and influence together in their beautiful café spaces."