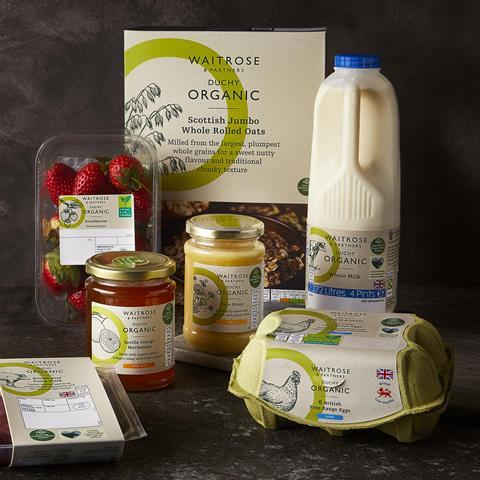 Sales of Waitrose's Duchy Organic range increased 10% in 2020.
Waitrose said sales of chicken in the range surged 43% last year, vegetables were up 22% and sales of fruit increased 15%.
The news comes as the Soil Association reported overall organic sales up 12.6% to £2.79bn in 2020 – the category's strongest growth in 15 years.
Waitrose has also rebranded the packaging of the 300-strong Duchy range to reflect its sustainability-led values. It said the revamped packaging illustrated the ethical and sustainable values the brand stood for.
The first items featuring the redesigned packaging hit shelves this week.
The Duchy Organic brand also raised £3.6m for charity in 2019 and 2020, bringing the total Waitrose has donated to charities to over £30m since it partnered with Duchy Originals, as it was then named, in 2009.
The brand was established by Prince Charles 29 years ago and donations are given to the Prince of Wales's Charitable Foundation. Funds are generated through the royalties Waitrose pays for, following deductions for administrative expenses.
It supports causes including the Duchy Future Farming Programme, which helps farmers develop more sustainable farming practices, and the Prince's Countryside Fund, which strives to secure a brighter future for those who live and work in the British countryside.
The range includes dairy items, poultry, pasta, bread and fresh fruit & vegetables. The items are exported to more than 30 countries including Japan, the US, Australia and Taiwan.
"Our new packaging gives more emphasis to the animal welfare and sustainability credentials which we know are so important to our customers and reflects the good food, good farming and good causes values for which the brand is so well-known," said Elen Ormson, Waitrose Duchy Organic brand manager.
James Bailey, executive director at Waitrose, added: "To reach this [fundraising] milestone raised for good causes is a reflection of the success of the Waitrose Duchy Organic range at Waitrose. We are proud to be custodians of this brand and, after a year of record sales, look forward to further success and support for the Prince of Wales's many charitable causes in the future."