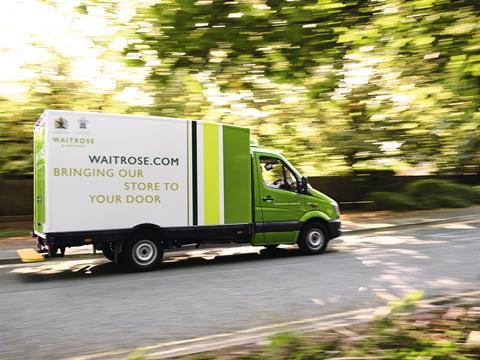 Waitrose's online turnover has reached a £1bn annualised 'run rate', the supermarket's executive director James Bailey has told The Grocer.
It puts Waitrose.com on course to hit a target announced in May last year of tripling its turnover to become a £1bn business within three years.
Online grocery has enjoyed a massive boost during the pandemic, with its share of the market rising from 7.4% in March to 13% by July, according to Kantar.
Waitrose increased its online capacity in May by opening its second customer fulfilment centre, but a third one, planned to help reach the £1bn figure, is not due to open until just before Christmas.
Waitrose set the target last year as it announced its partnership with TDP, the business created by Ocado co-founder Jonathan Faiman, which was to help create the three new CFCs. At that time, Waitrose had only one, in Coulsdon, serving central and south London.
The goal was cast into doubt three months later when Waitrose said the partnership with TDP had ended, an announcement that was followed by the revelation Ocado was suing Faiman and his business over allegations of industrial espionage.
However, the turnover level had now been reached in annualised terms thanks to current demand, Bailey told The Grocer this week.
"A billion is the current run rate," said Bailey, who was appointed in April this year.
"There's always a big question of what a post-Covid world looks like," he added.
As well as opening the new CFC in Enfield, Waitrose has also been rolling out store picking to additional branches during the pandemic. A rollout to 24 additional branches began in February. The number now serving online orders stands at 178 according to the grocer, enabling it to reach almost 90% of UK postcodes.
Bailey said he was putting continued store-pick rollout ahead of automation to make use of the "headroom" in the estate.
"It's a well-trodden path," he said. "You have most of the infrastructure in place, it's just a matter of utilising it in a different way.
"The leap all the way to an automated warehouse before you have that part nailed down looks unusual to me. The Covid crisis has created that demand. It's forced us in a really good way to think creatively and use the core estate in a way that it should be used. And I think there's lots of headroom in that estate as well so that's quite an exciting part of what's to come.
"That means we try to deliver lots of stuff from the stores."
However, Bailey added that while there were no current plans for a fourth CFC, active discussions were ongoing at board level.
His comments come just ahead of Waitrose's products' departure from Ocado's website next month, to be replaced by M&S's. Thousands of M&S products appeared on the site for the first time last week, for order from 1 September, while Waitrose's are marked as out of stock from the same date.
Waitrose has made online customers a focus for new product development in the run-up to the switchover. Larger pack sizes of its most popular branded items have been introduced to appeal to families.
The supermarket currently has 400 branded exclusive products online across prepacked baked goods, fresh and frozen lines, crisps and snacks and confectionery.
Waitrose has also prioritised online customers in creating or revamping 5,000 own-brand lines ahead of parting ways with Ocado. They are part of its Essential Waitrose range which fluctuates seasonally between 14,000 and 17,000 items.
The redeveloped or newly created products, which were added to Waitrose's website in May, feature more prominent welfare or provenance messaging on the front of the packaging to be clearly visible for online shoppers.