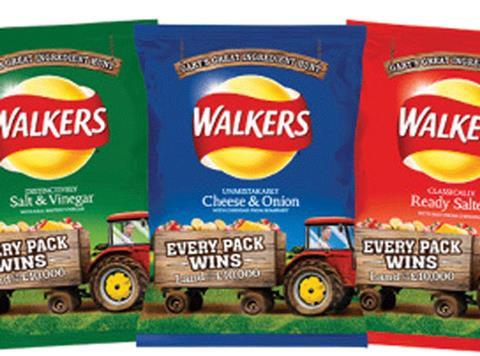 The standard Walkers crisps brand is being significantly undercut by its more premium stablemates.
Although standard Walkers crisps remain the UK's biggest bagged snacks brand, sales dropped 0.8% - or by £3.6m - to £474.9m in 2013, according to Nielsen data for The Grocer's Top Products survey 2013.
The price of a single bag of Walkers crisps (based on unit price) is still cheaper than other Walkers offerings, but, according to Nielsen, on a per-kilo basis the price of Walkers standard averages £8.71 – up from £8.07 a year ago.
In contrast, fellow Walkers brand Sensations is £8.69 a kilo, Deep Ridged £8.39, Extra Crunchy £7.77 and Crinkles £7.62 a kilo.
Prices have been influenced by the disastrous potato crop of 2012, but also deep promotions on sharing bags at the expense of cheaper single packs.
Sharing formats have soared in the past 12 months, led by Deep Ridged, which added £35m worth of sales to top £48.7m in 2013 – up a staggering 254.7%. Other strong performers were Sensations (up 13.5%) and Extra Crunchy (up 13.1%).
Despite the push towards sharing bags, Walkers has insisted it is not turning its back on Walkers standard crisps.
"Our standard Walkers crisps remain an integral part of our total portfolio but we have diversified our range of products in response to consumer demands and trends," said Peter Charles, marketing director for Walkers.
"These new subsectors of the market are showing significant growth with Deep Ridged already establishing itself as a substantial brand and our family snacking portfolio in fast growth year-on-year. Responding to consumer and market demands is crucial to driving long-term category sustainability and this success is apparent in the positive performance of Walkers' total portfolio," he added.
See this weekend's 192-page issue of The Grocer for our annual Top Products survey, which includes full details of the winners and losers in the bagged snacks market – and 99 other FMCG categories.