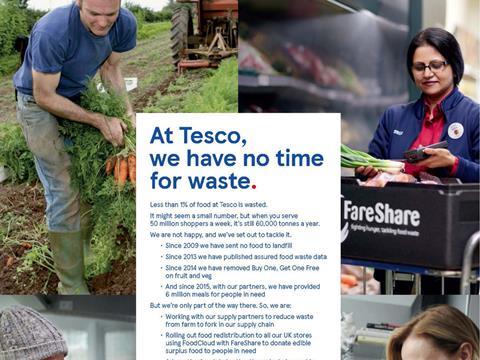 Tesco has failed to hit its two year target to eliminate food waste from its UK operation by the end of 2017/18, instead seeing food waste across its operation increase by more than 6,000 tonnes.

The UK's biggest retailer, which had aimed to hit the target by February 2018, has made it to 64% of its aim, according to independent analysis of waste in stores and DCs by KPMG.

However, the UK's biggest retailer today expressed its determination to push on with its battle against waste and called on other retailers and suppliers to follow its lead in transparency of reporting the figures and its support for the UN goal of halving food waste by 2030.

Tesco's annual report revealed that growth across its food business had seen total food waste in the UK operation increase from 46,684 tonnes last year to 53,126 tonnes, although Tesco said the level was "broadly flat" at around 0.5% of food sales.
Tesco said as well as the growth of sales overall as its recovery continued, especially in food, the figure had been affected by its own efforts to help reduce waste across the supply chain.

It said an example was its decision to take as much of the crop as possible from growers, to reduce food being wasted on farm, which had led to an increase in unsold fruit and vegetables in stores.

The retailer said its moves to reduce food waste had included surplus food safe for humans being offered to local charities and community groups through its Community Food Connection scheme, with 7,975 tonnes of food (19 million meals) being donated in the year to almost 7,000 charities from its stores and DCs.

But the report said: "Transparency and measurement is essential for identifying hotspots, and in tackling the causes of food waste. It helps everyone understand how much, where, and why food is being wasted."
"We are pleased to see that Tesco continues to show impressive leadership on food waste by publishing detailed, independently verified information on waste generated across product categories and business locations," said Feedback executive director Carina Millstone.
"We are also pleased to see Tesco reiterate its commitment to halve food waste from farm to fork by 2030, and its ongoing work with suppliers to make this happen. But as for the waste figures themselves, alas, we can't help but be disappointed that Tesco's efforts haven't translated into results. Food waste generated in UK operations remains stubbornly stuck at the 0.5% of food sold mark, much like previous years. Tesco's failure to eliminate food waste completely in its own operations – let alone in its supply chain or in its customers' home- despite its undisputed leadership and its commitment to doing so, suggests to us that supermarkets' business models and ownership structure make them inherently wasteful. We look forward to Tesco proving us wrong."
Tesco was the first UK retailer to publish food waste data and said it was proud of its record.

A spokeswoman said: "Over the past 12 months we have donated 19 million meals to 7,000 charities, and reached 64% towards our ambition to eliminate all edible food waste in our stores and distribution centres. We are proud of the work our colleagues do to reduce waste, and remain the only UK retailer to publish detailed, third-party assured food waste data and encourage others to take the same step".

The Grocer revealed in November that in talks through the IGD, all the major food retailers have agreed on a new common reporting mechanism for food waste. However, supermarkets have yet to agree on how this is reported and whether it is left to individual retailers to follow Tesco's lead or for the industry to reveal transparent figures as a whole.

The Grocer's Waste Not Want Not campaign has been urging supermarkets and suppliers to move towards greater transparency in reporting waste since it launched in 2016, the same year as Tesco set its ambitious target to remove all food waste from its UK operations.