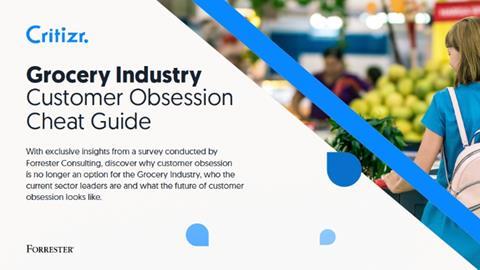 CEO's no longer run the business, frontline staff do.

The Grocery landscape has changed dramatically over the past 18 months. But even beyond this, pre-existing conditions, such as digitalisation and e-commerce, have challenged brands.

Retaining market share is top of mind for today's CEO's, but for those on the frontline it's been simple…serve the customer the best way possible.

This cheat guide uses insight from our recently commissioned Forrester Report to show:
- Why the Grocery Industry needs to become Customer obsessed.
- The main challenges grocery brands face around implementation and adoption.
- How the grocery industry's behemoths Carrefour, Co-op, and M&S are leading the way.
The Grocer may use your contact data to keep you informed of its products and services by email. You can withdraw your marketing consent at any time by clicking the unsubscribe link in such email or by sending an email to dataprivacy@wrbm.com. More information on our processing can be found in our Privacy Notice. By submitting this form, you acknowledge that you have read and understand our Privacy Notic