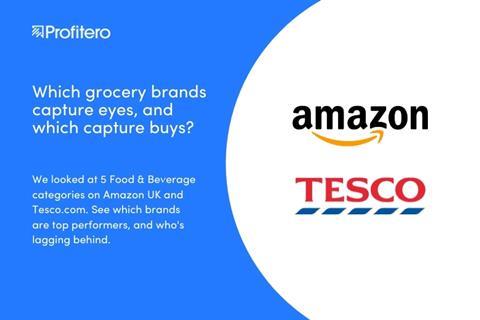 The formula for growing eCommerce sales is simple: get more eyeballs on your product pages, then get more of those eyeballs to convert.

But with more products being launched online every day, it's getting harder and harder for brands to stand out in retailers' search results in order to win those eyeballs.

For the first time, Profitero's Eyes vs. Buys Index helps food & beverage brands better evaluate and optimise their digital shelf health on Amazon UK and Tesco by combining a view into their search as well as product content performance.

Find out which grocery brands are winning the digital shelf.
The Grocer may use your contact data to keep you informed of its products and services by email. You can withdraw your marketing consent at any time by clicking the unsubscribe link in such email or by sending an email to dataprivacy@wrbm.com. More information on our processing can be found in our Privacy Notice. By submitting this form, you acknowledge that you have read and understand our Privacy Notic