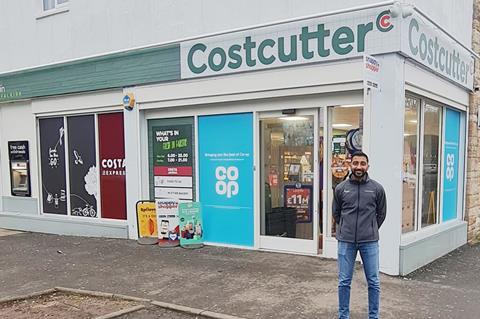 Bestway has launched a new 'Galacticos' recruitment strategy in a bid to harness the star-power of well-known retailers.
Some big convenience players that have so far onboarded include Anand Cheema, the son of Scottish Grocers Federation CEO Pete Cheema, as well as Glasgow-based retailer Abdul Majid, the former president of the SGF. They switched from Spar and Nisa respectively to become Costcutter retailers.
The Grocer understands more of the industry's leading lights have also agreed to switch over.
The wholesaler believes getting high-profile operators to trade with Bestway will act as catalysts to get other retailers to join the business.
Retail director Mike Hollis said these "forward-thinking and progressive" retailers are mostly drawn to the Costcutter fascia because of getting access to Co-op own label, a strong fresh range and 600 local suppliers. The takeover of Costcutter last February allowed it to "reposition its offer", he said.
"It adds more strings to its bow," he said. "We can tick a box that we probably couldn't tick a year ago."
He said the buying power Bestway wholesale gave the retailers was also a key selling point, giving them the flexibility to shop in cash & carry and drive margin. Its speciality alcohol offer Bargain Booze, that goes beyond a traditional "distress" alcohol range, was also bolstering its offer to prospective retailers, he added. Despite its hard franchise model, retailers can "dial up the localism" with products, including lagers and bitters, tailored to different shoppers.
"With a great combination of fresh food, own label, buying power, and specialism in alcohol, we've got a competitive offer to attract some really influential retailers and help them develop their business and make more money.
"And because you've got different supply chains, there's the ability to buy smarter and improve margins, which is going to be important when the cost of doing business is going up."
Hollis explained a crucial part of the strategy was also taking learnings from the 'Galacticos' retailers to share with and help educate its other 3,500 independent retailers. "This is what the forward-thinking, progressive retailers are thinking about, and if we can support the best in the market, we can support everybody," added Hollis.
It said these learnings would also help to evolve its own proposition. For example, over the next six months it is converting five of its company-owned Central convenience stores to Best-one with the aim of enhancing Best-one's grocery impulse offer. These are set to become the business' first company-owned Best-one stores.
"Because these are our own stores, we can trial and test a few different propositions which will allow us to reposition the Best-one proposition in the market," Hollis added. While it will "stick to its roots" of a grocery impulse-led proposition, he said the business was looking at exploring a bigger food-to-go offer.
"People are shopping convenience more than ever. Therefore, you've got to keep challenging yourself about what your proposition is for your brands and keep up to date."
Twenty-three retailers now form part of the 'Galacticos' recruitment strategy since it was launched in March, including new and existing retailers.
In terms of future recruitment via the strategy, the business has not set out a target for the number of retailers it aims to get on board. It said, however, it ultimately wanted "every progressive retailer in the UK to come and talk to us".
Hollis said it was important to clarify these retailers didn't get more financial support than the rest of its independent retailers. "It is a good test for us because if we can keep attracting these retailers with our standard terms, we know we're competitive in the market."
"My open-arms appeal out to every progressive independent retailer: come and talk to us and test us, and let us understand that if we're not right for you, we need to understand why. Therefore, we can develop our offer so we can be right for you."