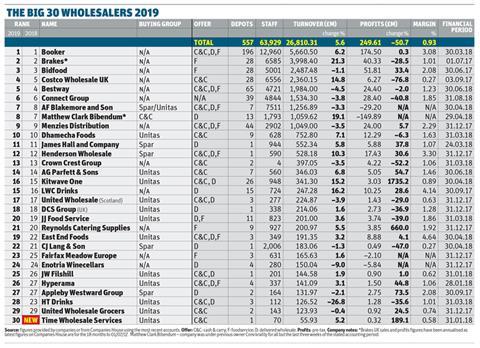 Wholesalers have had to deal with the 'worst-ever availability' this past year – and that's not just down to last summer's CO2 crisis. Now they're facing further uncertainty in the form of Brexit
As the CO2 crisis took its toll last summer, empty shelves were commonplace across the major supermarkets. But that picture was magnified to an even greater level in cash & carries and wholesale depots across the country. CO2 was a major factor, but it certainly wasn't the only reason that stock levels in wholesale were falling below expectations.
Wholesale at its core is all about the movement of goods - goods in and goods out. And wholesalers are increasingly coming to the view that a number of key suppliers are prioritising the needs of leading supermarkets over their own.
"In the main, service levels from primary suppliers have been below expectations in general," says JW Filshill MD Simon Hannah. "Availability from certain suppliers in grocery has been poor in 2018."
Dawood Pervez, the newly promoted Bestway Wholesale MD, agrees. "Supplier availability has been terrible this year, particularly during the unexpected hot summer and through England's football success, which both drove footfall in independent retail and catering outlets. It was disappointing not to be able to count on our suppliers to keep our depots full throughout these key busy periods," he says.
Pervez points out that it was not just stock that was in short supply at times."We've also noticed a reduction in supplier representation, such as having account managers who we see regularly, and representatives coming into depot or visiting retail stores to help improve category knowledge and understanding of NPD and to drive awareness of the brand and its product, which would all lead to increased sales," he adds.
Trouble with supplier service levels is not necessarily a new thing. Booker CEO Charles Wilson famously highlighted the issue three years ago at the FWD conference. However, it does seem that recently the issue has risen to the top of more wholesalers' agendas.
Dhamecha CEO Pradip Dhamecha goes as far as to say the biggest problem for his business in the past year was "supply chain issues from our manufacturers who manufacture to forecasts only and give greater importance to the multiple retailers".
That view isn't universal by any means. And indeed many wholesalers paint a more positive picture.
For instance, though being part of the Tesco empire did not make Booker immune to the CO2 crisis by any means, Wilson still describes the levels of service it receives as good.
"The CO2 issues were testing, but we are grateful to suppliers for helping manage disruption," he says.
AF Blakemore chairman Peter Blakemore is another with a more positive view on the performance of suppliers."We recognise that we would be unable to deliver what our customers require and fulfil our role within the supply chain if it weren't for the ongoing partnership of all key suppliers investing heavily in our supplier contact functions to ensure a high quality of relationship," he suggests.
Overall however, Federation of Wholesale Distributors CEO James Bielby does recognise wholesale's concerns among some of his members, branding last year's availability "the worst it has ever been". Bielby again is talking about general availability rather than lines affected by CO2 and the recent extremes of both hot and cold weather.
He suggests many of the issues stem from a lack of "wholesale champions" within the supplier teams. "Suppliers will use the wholesale sector as something of a training ground for sales representatives who get switched to multiple retailer accounts just as they are beginning to get a proper understanding of the wholesale sector," he says.
"You don't see as many of the wholesale specialists either at junior or senior levels who really understand how to unlock investment in the channel."
Simon Gray, MD and owner of Boost Drinks, which sells exclusively into the wholesale channel, flags up the importance of both understanding the sector fully and working hard at relationship building.
"We can't speak about anyone else's customer service levels in the sector, but looking at our own customer service performance it's consistently improved over the last 12 months and we have been commended for our customer service by a number of wholesalers.
"With regards to the CO2 challenges of last summer, we didn't have any out-of-stock issues when we know others in our sector did.
"As a brand that is committed to making continual improvements in the way we do business, we've put a strong emphasis on our customer service strategy.
"There are several areas for brand owners to consider to deliver better service across the wholesale channel; from collaborative forecasting, even as far as vendor-managed inventory, joint business plans and information sharing to stockholding planning and closer access to the broader customer teams involved."
In response to these concerns, the FWD has recently started running events and online training for suppliers at both junior and senior levels. The 'how to win at wholesale' events aim not just to create closer relationships between suppliers and wholesalers, but also highlight opportunities where suppliers can engage more successfully with wholesalers to grow together.
Bielby acknowledges that this a part of a long-term strategy to build closer ties, but says that so far he has been encouraged by buy-in from suppliers.
Brexit
While progress such as this could be seen as encouraging for the long term, it is the short-term future that is now troubling wholesalers. Bielby warns that Brexit could create far worse problems with availability than we saw last year, with wholesalers again concerned that major retailers will be prioritised over them.
"Of course the problem is that there is just so much uncertainty around Brexit," he explains. "But there is no doubt that suppliers will feel pressure to look after the major supermarkets in the first instance.
"Wholesalers need to be looking at Brexit planning and they are trying to stockpile where they can, but this comes at a cost. And the real issue is will they even be able to get their hands on stock if we start to see shortages in a no-deal scenario?"
Indeed, whereas consolidation in the sector has been the biggest issue in the trade over the past few years, the question of supply - and how Brexit is likely to affect this - is now the greatest cause of sleepless nights right now.
"Brexit is a huge uncertainty," says Pradip Dhamecha. "This will impact the supply chain issues we are currently facing and will impact service levels for our customers. Furthermore, suppliers will give priority to supermarkets, which will compound the problems."
Northern Irish Spar distributor and retailer Henderson Wholesale is at the sharp end of the Brexit negotiations and last week said a no-deal Brexit was "unthinkable". While developing a contingency plan, group FD Darren Stewart is crystal clear about what he wants from government. "Resolve Brexit in a timely manner and with a positive outcome", he says.
Colin McLean, MD of fellow Spar wholesaler CJ Lang, adds that its Brexit plan "is being reviewed weekly with key suppliers, but it's remaining flexible until we get further clarification".
Wholesalers are being far from complacent when it comes to Brexit, but there are limits as to what they can do and indeed massive uncertainty about what they should do.
When it comes to stockpiling, the FWD's Bielby says wholesalers are doing what they can. Given the nature of their businesses, wholesalers do generally have some extra capacity in their operations to increase stockholding, but this is far from unlimited. He says he is hearing from members that they are looking to increase stocks of ambient and frozen lines from one to eight weeks, though frozen capacity is more limited and, like all other food businesses, they can't do anything about fresh food at this stage.
While wholesalers clearly fear falling down the pecking order for suppliers should shortages and delays materialise, they will also more than likely have to prioritise some of their own customers over others. This has the potential to hit independent grocers harder than others. Bielby suggests wholesalers may come under pressure to prioritise public sector customers such as schools, the armed forces and even prisons.
The FWD is in regular contact with Defra and the Department for Exiting the EU, so it can try to advise members about conducting value assessments of ranges, working out what lines may become unavailable or subject to price hikes, potentially sourcing alternatives and keeping their own customers updated.
The FWD was among a 32-strong group of food and drink industry trade bodies to write to Michael Gove, the Defra secretary of state, warning that they no longer had the resources to engage with government on non-Brexit related consultations as they were "totally focused on working to mitigate the catastrophic impact of a no-deal Brexit".
Bielby says consultations on issues such as deposit return schemes, producer responsibility for packaging and allergen information are all likely to have huge impacts on wholesalers, but right now they "need to be delayed until there is some certainty around Brexit".
Optimism
Clearly these are challenging times for the sector, but it would be wrong to suggest that is all doom and gloom. Many of the UK's biggest wholesalers continue to deliver strong performances in spite of the many obstacles in their path, and there's no shortage of optimism among wholesale bosses following a period of significant consolidation.
Since Tesco's £3.75bn swoop for Booker in January 2017, there has been the collapse of P&H and Conviviality, the merger of Today's and Landmark to create Unitas, Co-op acquiring Nisa, and Blakemore disposing of its cash & carry business. However, there is a sense that the remaining players are left in a stronger position - though it has made many of them take a good look at their strategy and ensure they retain a place in the market for the future, and where necessary change.
This is certainly the case for CJ Lang. "There has been a recognition that our business model will need to change and adapt for future success, and the need to develop a long-term strategy," says MD McLean, who joined the wholesaler just under a year ago.
"As we enter our 100th year, the new management team is focused on delivering a differentiated strategy to build long-term sustainable profit growth. We have already introduced a number of initiatives that are beginning to drive real improvement."
"It's been a year of consolidation in the sector, which has resulted in there being fewer players, but each one is bigger and stronger than ever," explains Bestway's Pervez, who adds that the acquisition of the former Conviviality Retail business has "increased our scale and therefore our negotiating power with suppliers, which has enabled us to offer more promotions to customers and increase our range.
"It's been a year of consolidation, which has resulted in there being fewer players, but each one is stronger than ever"
"We are pleased to have been a growing player in this consolidation story and have thus come out stronger with our two businesses."
Growing scale has been the key driver behind most of the recent deals. However, other wholesalers are also seeing opportunities left behind in the wake of the consolidation. JW Filshill's Hannah believes it is about identifying the gaps that have opened up and being agile enough to fill them quickly.
"There is an opportunity for us to focus on service and supplier relationships and be first to market for NPD," he says. "Local sourcing is diminishing with the consolidation and we have expertise in this area."
For Dhamecha, which opened its ninth depot last year, in Birmingham, the answer to consolidation is more of the same. "It is a challenge for us," he admits. "We are impressing on suppliers not to underestimate the wholesalers who continue to be brand champions and are an important route to market for the convenience sector."
When push comes to shove, the UK's successful wholesalers have got very used to consolidation over a long period of time and continue to survive and in many cases thrive. They have also become accustomed to coping with supplier availability and service level issues over a long period.
What they have not previously dealt with before is the potential chaos that could ensue from the UK exiting the EU without a deal.
Wholesalers, like the rest of the food and drink sector, will be desperate for government to secure a workable deal that gives them some certainty for the next couple of years. Then they can get on with doing what they do best - competing hard against each other.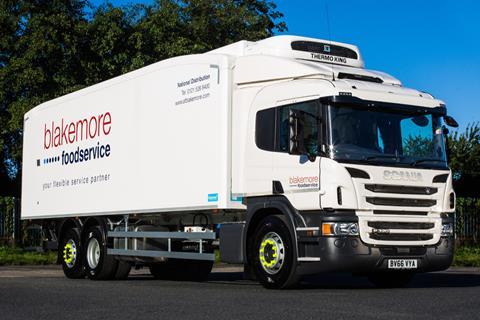 Inside story: How Blakemore bowed out of cash & carry
One of the longest-running stories of the past 18 months in wholesale was the saga of AF Blakemore's exit from the cash & carry sector.
Nearly six months after closing its final depot, joint MDs Jerry Marwood and Geoff Hallam have spoken exclusively to The Grocer to explain the reasons for the decision and to outline their vision for the wholesaler's future.
Rather than simply instigating a sell-off, as it seemed to onlookers at the time, the move came about after AF Blakemore appointed KPMG to conduct a wide-ranging review of the whole operation in order to make it fit for future growth, says Hallam.
"KPMG effectively looked at the opportunities where we could grow," he explains.
"It was also the case that as a business we don't have infinite resources to support every area so the idea was that we should focus on the areas where we could drive the most growth."
This did not include the cash & carry estate, which Hallam admits was not equipped to provide the future growth the business was looking for. "There were still opportunities for the cash & carries," he says. "But not without huge investment."
Another factor that encouraged the cash & carry sell-off was the change in tobacco legislation that came into force in May 2017. The change saw the sale of smaller packs of cigarettes and roll-your-own tobacco banned, and outlawed price-marked packs. This has had a disproportionately high impact on cash & carries, says Hallam.
Annual results for the year ending 30 April 2018 show the wholesaler recorded a pre-tax loss of £20.7m on sales of £1.26bn.
However, it also recorded pre-tax profit of £8.5m on sales for the continuing parts of the company of £1.1bn.
Blakemore said it had made exceptional provisions of £18m as a result of the sale of the 12-strong cash & carry business.
However, the company added that the process had also generated £17m of surplus cash, with the bulk of this to be received during the 2018/19 financial year.
The company completed the process in September 2018, having sold nine sites, with negotiations relating to the remaining four premises now nearing completion.
Six of the nine depots were sold to other wholesalers, five as going concerns.
Of the 464 staff involved on the cash & carry side, 50% either remained within the Blakemore organisation or transferred to the new depot owners.
As for what's next, this year sees Blakemore launching a five-year strategic plan, concentrating on its Spar, wholesale distribution and foodservice businesses. It also includes a management restructure under the leadership of Marwood and Hallam.
Marwood says one of the keys to its future strategy is to see the business as a specialist in delivering food for now and food for later, and applying this across its wide and diverse range of customers, whether they be traditional convenience stores, forecourt operators, motorway services, schools or foodservice operators.
He also highlights growing business selling groceries to retailers such as Halfords, Primark and Staples.
"There is so much crossover these days and so what we are thinking about is how we meet customers' daily needs," he adds.
The other key to success over the next few years will be how the wholesaler leverages its own managed store estate, in which it can continue to trial concepts and develop insights to take to its customers, in the knowledge that they work.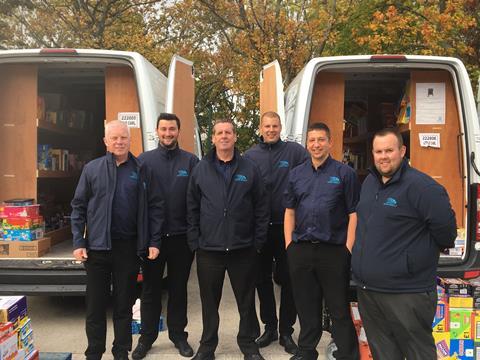 How new opportunities grew from the ashes of P&H
The demise of P&H in November 2017 has provided an opportunity for a number of wholesalers to pick up new business, with Bestway's fledgling van sales business a clear example.
Bestway Vans Direct rose out of the ashes of P&H's Sweets Direct and Snacks Direct operations, in January 2018. It was aided in its ventures by picking up some of the collapsed van sales management team, and of course the vans.
Just over a year on, Bestway Vans Direct is selling £170,000 worth of stock a day to 20,000 regular independent retailers.
"The success of the last year has been part due to our unique proposition and our ability to recruit and train a superb team, but it must also be attributed to the loyalty of our customers and suppliers," says Bestway van sales director Noel Robinson, who previously ran the P&H van operations.
"Our Bestway Vans Direct delivered snacks and sweets proposition can really help retailers to stay ahead of the game with NPD and to keep their shelves filled with leading brands - after all, fully stocked shelves will drive sales. Delivery is free. There's no minimum order quantity and we also offer competitive pricing and loyalty rewards dependent on the order size. For suppliers, our service will raise awareness of their products and put them directly on the shelves of 20,000 retailers.
"The fact we've sold four million cases in just one year of trading, can only speak for itself."
The service offers almost 300 snacks and sweets SKUs and employs 230 customer sales representatives, who are supported by a central office team in Sheffield. Reps can also provide retailers with point of sale materials on behalf of suppliers.
The stock is sourced from within the Bestway Wholesale depot network.