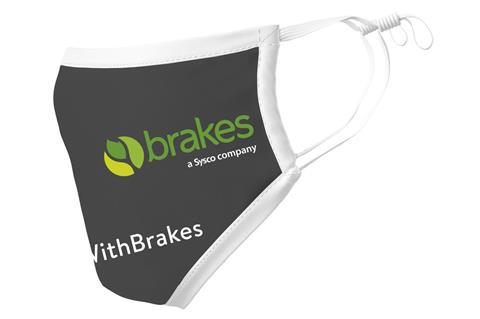 Foodservice wholesaler Brakes has invested in 10,000 branded reusable face masks for its staff nationwide.
Before now, the distributor had supplied its staff with disposable face coverings. However, it has now made the switch to a more sustainable solution.
The nanofiber filter masks are manufactured by face covering brand Ally and feature the Brakes logo.
Ally has also provided a variety of coloured masks for Brakes to stock.
"The health, safety and wellbeing of Brakes colleagues, customers and communities is our primary concern," said Brakes category merchandising director Janice Rockwell.
"We have a large number of effective safety measures in place across our business, including for our warehouse and delivery colleagues. It was therefore very important to us to find a face covering we could provide colleagues that would not only meet our high safety standards, but that was also comfortable and practical to wear while working.
"We were very pleased with both the product and the service we received from Ally. The face coverings are not only perfect for our colleagues but also make a great addition to our range."
Ally CEO Gareth Gillatt added: "For big businesses with large numbers of client-facing staff, there's been a genuine struggle to find high-quality, reusable and cost-effective options that meet both protection and sustainability criteria.
"As well as the quality of our product, having the option to customise the covers at scale with their logo was another positive for Brakes from a branding perspective.
"I'm also delighted to confirm that a significant donation from this deal will be given to support frontline healthcare workers via NHS workers' charity Heroes, whom we've worked closely with over these past few months."