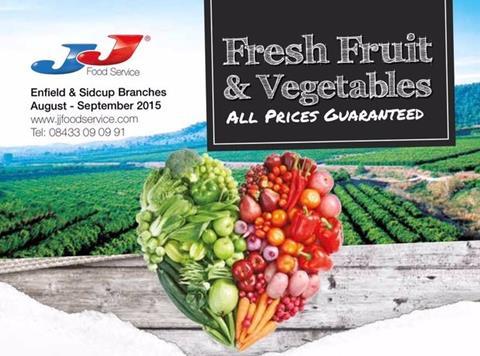 JJ Food Service has almost tripled its range of fresh fruit and vegetables.

The family-owned foodservice company also said it was now dealing directly with growers as a result of strong demand for fresh fruit and vegetables from its customers in restaurants, hotels, catering, cafés, pubs, schools and retail.

The new fruit and veg range includes avocados, mangos, melons, pineapples, chestnut mushrooms, ginger, spinach, rocket leaves, coriander and vine-ripened, cherry and plum tomatoes.

Previously, JJ carried a limited 23-line range specific to trade sectors but this was expanded to 64 on 1 August.

"Our fresh fruit and vegetable volume sales have almost doubled over the past 12 months and we have responded by removing the middle man and doubling our range," said chief products officer Ali Guvemli.

"We now work with 16 different growers, including British suppliers. This has enabled us to procure more carefully, improve availability and offer highly competitive pricing to our customers."

JJ has also created new promotional materials including an online brochure to highlight the new range.