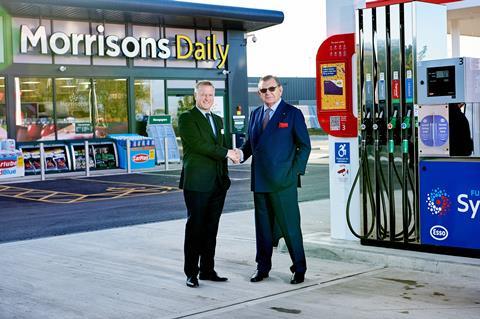 Morrisons has agreed a major expansion of its wholesale contract with forecourt operator Rontec.
Rontec currently operates more than 50 of its 250 stores under the Morrisons Daily fascia and the latest agreement will see it convert dozens more stores to the supermarket branding. The two parties, who have worked together since 2016, have also committed to the supply agreement for a further 10 years.
The Rontec-owned Morrisons Daily stores are typically around 3,000 sq ft and offer a wide range of Morrisons own brand, Market Street products and food-to-go lines. The retailers are also now launching a second fascia called Morrisons Select for smaller stores that will carry a reduced range focusing heavily on food to go.
"We have a good relationship with Rontec and we are pleased to be working with them to provide Morrisons food to more and more people," said Morrisons CEO David Potts.
"Rontec's stores are very well managed and have strong store standards and so we are delighted to build on our relationship with them."
Rontec chairman Gerald Ronson added: "Our customers have responded positively to a Morrisons offer that combines value for money with a strong fresh food range. Both companies also have a hands-on culture and that gives us the confidence to extend our partnership."
The Morrisons Daily fascia is also used by McColl's and Channel Islands retail group SandpiperCI.