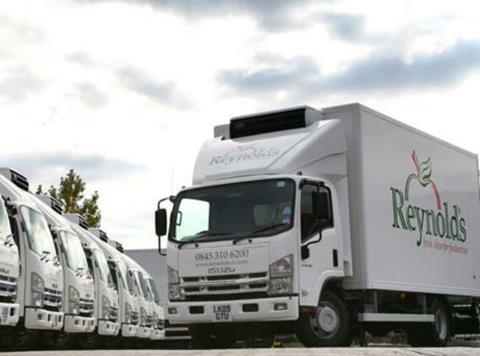 Reynolds Catering Supplies is planning to add 25 electric vehicles to its commercial fleet by 2025, as part of a wider sustainability drive.
The company launched its first 7.5t electric vehicle in February this year. The truck has a 145-mile range and does 15 drops a day for customers in Bath and Bristol, saving around 550kg of CO2 per week.
It has since added a 250kg Fiat van to the fleet, and has another 19t DAF electric truck due for delivery by the end of 2022.
The wholesaler is also trialling a number of other measures to reduce its carbon footprint.
It has recently started using Shell's low-carbon emission gas-to-liquid (GTL) fuel, which burns more cleanly than conventional crude oil-based diesel, in some of its trucks. Additionally, the business has begun fitting solar panels to some of its 213-strong fleet.
The electric vehicle strategy is one of six target areas for improving sustainability. Strategies are also in place to deal with recycling, food waste, energy consumption, packaging and sourcing.
"Over the last six months we've been reviewing our practices and trying to understand the actions we can implement which will have the biggest impact," said Reynolds' head of insight and innovation Morgane Thouvenel.
"It's not just about having one electric vehicle, it's really about looking at all the different ways in which we can reduce our carbon footprint, whether it's through electric, solar panels or GTL fuel."
Head of fleet support Steve White said: "From a business point of view, you'd have to say we want to go carbon neutral, but from an operational point of view there are stepping stones.
"If you look at the technology of electric trucks, it's pretty new. So you're limited on your operational milage from certain depots and the infrastructure for recharging isn't there currently.
"We've got a clear path to 2025, but then we'll revisit the technology and if it's capable then we'll start the next phase. By the end of 2025, more than 10% of the fleet will be electric."