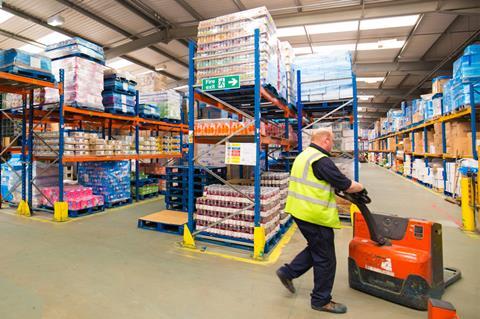 Wholesalers will have to scrap alongside other businesses for a share of the £425m restart grant fund, after failing to secure sector-specific support in the Budget.
Chancellor Rishi Sunak confirmed business rates relief would be extended until June 2021 for eligible businesses, which include supermarkets, non-essential retail and hospitality outlets, but wholesalers were left out again.
The omission in effect signals the failure of the wholesale sector's year-long lobbying campaign to extend business rates relief to its members that have been financially impacted by the closure of the hospitality industry.
The Federation of Wholesale Distributors has now renewed calls for sector-specific support, urging the Treasury to prioritise wholesalers for a share of restart grants.
"It's essential that guidance is issued immediately, explicitly fast-tracking food and drink wholesalers for the support they've been denied elsewhere," said FWD CEO James Bielby.
"After a year of burning though their cash reserves, with food and money thrown away because of the government's short-notice announcements of lockdowns and bungled reopening of schools in January, wholesalers simply don't have the cash to re-stock ahead of their hospitality customers reopening."
Read more:
Foodservice wholesaler Harvest Foods MD Richard Strongman told The Grocer: "It is an understatement to say we feel let down and hugely disappointed by the lack of any sector-specific support in this Budget. Truthfully, what we needed was 12 months rates relief, which has been extended to other sectors.
"With regards to the discretionary funding distributed by local authorities there is no indication about what the eligibility criteria will be at this stage. But so far the application of this scheme has been inconsistent across the country and the magnitude of the grants has not been sufficient to cover even a fraction of the fixed operating costs of wholesale businesses."
The Maidenhead Wine Co said it was now facing legal action as its local authority attempted to recover ground rent and business rates totalling £47,000.
Meanwhile, it has £1m worth of stock in its warehouse with no customers to sell to.
Company secretary Susie Warner told The Grocer £350,000 in duty had been paid on the product, which was due to go out of date before the hospitality industry is set to reopen on 12 April.
"The Chancellor has had his money from us, now we need a little back from him so we can be there to supply those local restaurants which he wants to bounce back as soon as possible," said Warner.
"We've tried everything to stay in business – all but two of us are furloughed, and we're selling small volumes to individuals where we can. Despite the fortune in duty we've handed to the Treasury we've had no assistance from the Chancellor to help with the costs of storage, vehicles and so on."
The Grocer understands the Treasury has not included wholesalers in business rates relief as it is only aimed at businesses that are reasonably accessible by visiting members of the public.