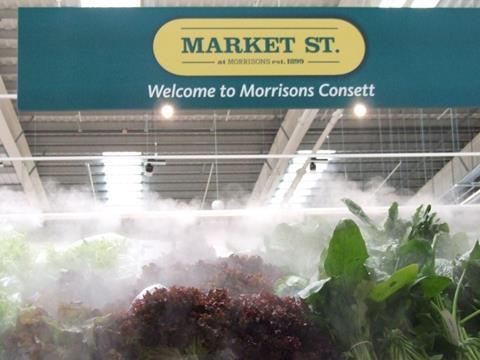 Morrisons has confirmed it plans to dispense with its infamous misty veg, which has become a byword for how it lost touch with its core customers over the last couple of years.
The retailer introduced the flat-bed misters that kept the produce fresh with dry ice to enhance the perception of freshness and to create theatre.
They were part of a Store of the Future trial in Kirkstall store in Leeds, which were quickly followed by Royal Tunbridge Wells, St Albans, Shrewsbury, Wrexham and York.
Misting devices were eventually featured in about 300 of the group's 500 branches.
The news was broken to Morrisons staff by group retail director Martyn Fletcher at its National Kick-off meeting in Liverpool this week.
"This move is about going back to basics, using simpler refrigeration techniques and Morrisons' traditional strengths in fresh food management, to ensure that our vegetables stay fresh," said a spokesman.
Morrisons' misty veg became somewhat synonymous with the Dalton Philips' era and with the CEO set to depart next month marks the first significant departure from his strategy.
Philips was criticised by city analysts and in particular Morrisons founder Sir Ken Morrison for what was perceived as his attempts to take the retailer upmarket when consumer spending was being squeezed and the discounters were beginning to win significant market share.
Sir Ken used the misty veg to highlight how Philips' strategy had alienated the retailer's core shoppers.