Beth Brooks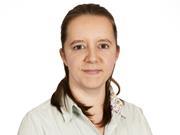 Beth covers Sainsbury's, The Co-operative Group and indie retailers including members of Nisa and Costcutter. She also covers wholesalers including P&H, Booker and Bestway. Also on her patch are forecourts, the newstrade and the National Lottery.
Contact Info
Tel:

01293 610227
Recent stories
McColl's Retail Group has posted a slight fall in like-for-like third-quarter sales.

At the age of nine, I was given the responsibility of making sure my mother's pigs, ducks and chickens were fed and safe…

Proper Cornish Group has recruited a new group marketing director, sales director and NPD manager…
Recent blog posts
The Co-operative Group has launched a mobile top-up shop that will act as a temporary store when one of its shops is being refurbished

New data released this morning has claimed shoppers are increasingly looking beyond the hypermarkets and supermarkets for their grocery shop

It's a well-worn phrase, but yesterday really was the end of an era for Costcutter and Nisa.
Beth Brooks contributes to: