James Halliwell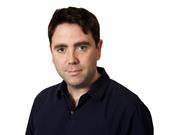 James Halliwell is features editor at The Grocer. He writes, edits and commissions features on the fmcg industry as well as big interviews with senior industry figures. He also writes the Critical Eye TV column, news stories, and blogs.

James was voted PPA Business Writer of the Year in 2015 and 2013, and BSME Print Writer of the Year in 2014.

Prior to joining The Grocer in 2011 he was a website content editor for Thomson Reuters.
Contact Info
Tel:

01293 610253

Email:
Recent stories
The UK has voted to leave the EU by 51.9% to 48.1%, sending shockwaves through the country and around the world…

It's genuinely hard to find a major player on the world stage that publicly advocates Brexit, unless you count Donald Trump

Slow progress, considering the pledge was launched in 2012. Is something wrong with it? 
Recent blog posts
If I ever have a rough day at work I often cheer myself up by thinking, well, at least I'm not Philip Clarke. 

In 2007, it was nearly all over for English mustard as we know it, thanks to a disastrous harvest of mustard seeds…

Top New Talent, launched by The Grocer in 2013, is once again inviting anyone in the industry (aged under 35) to put themselves forward
James Halliwell contributes to: