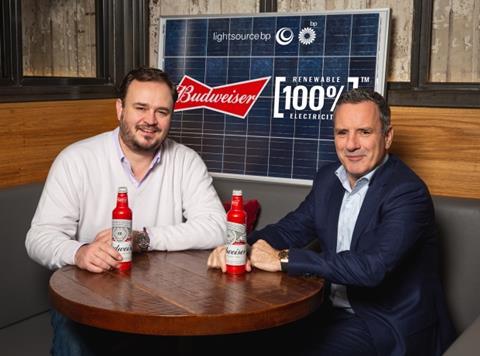 Beer behemoth AB InBev is to begin brewing its flagship beer Budweiser with 100% solar power after signing the largest deal for solar energy ever made in UK history.
The 15-year deal with Europe's largest supplier of solar energy, Lightsource BP, will see Lightsource fund, develop and operate solar installations for InBev that the brewer claims will generate enough electricity to power the equivalent of 18,000 homes.
It was proof that "solar power can now be delivered at a cost-competitive price", said Lightsource CEO Nick Boyle."We have reached a pivotal point in the UK energy sector where unsubsidised solar is going to truly make its mark as the cheapest form of energy generation, even compared to wind."
Over 17 million bottles of the brew are made at AB InBev's breweries in Magor, South Wales and Samlesbury, Lancashire, every week.
Following the deal, a new symbol will be added to Budweiser's UK packaging, designed to "encourage consumers to choose a beer brewed with 100% renewable electricity". The symbol is already used on Budweiser packs in the US.
The deal was "about driving positive change in what people buy in their weekly shop, order in the pub or drink with friends", said the brewer's zone president for Europe, Jason Warner.
"We want to build a movement towards celebrating and growing renewable electricity, and are asking our consumers, customers, colleagues, business partners and fellow companies to join us. We are making our 100% renewable electricity symbol available for any brands who share these values."
AB InBev has pledged to source all of its purchased electricity across the world from renewable sources by 2025 - Which it claims will make it the largest corporate buyer of renewable energy in the consumer goods industry. It also plans to reduce carbon emissions across its global business by 25%.
The news comes on the back of an exceptional year for the Budweiser brand: thanks to a stellar performance over the world cup and the summer's heatwave, it has added £28m (7.4%) to its value over the past 12 months, hitting £408.6m, as The Grocer's Top Products Survey 2018 revealed this month [Nielsen 52 w/e 8 September 2018].