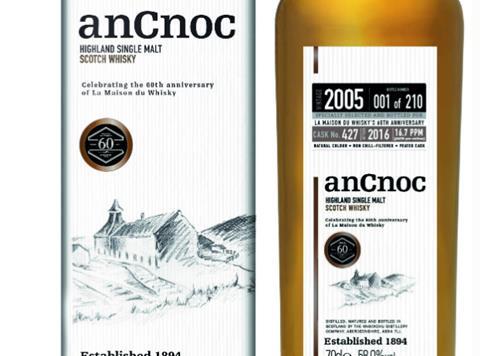 Knockdhu Distillery's AnCnoc is set to release its first-ever single cask bottling, AnCnoc 2005, to mark 60 years of La Maison du Whisky, France's largest rare whisky retailer.

The limited-edition single malt scotch will be officially unveiled at Whisky Live Paris on 24-26 September, having matured for more than 11 years in an American oak bourbon barrel. The 58% abv liquid is rose gold in appearance, with a scent described as 'wood smoke and burned stewed apples'.

Its flavour notes promise 'thick smoke on grated lemon peel' and summer fruit salad balanced by honey, vanilla and spicy ginger. The finish is said to be a combination of fruit and smoke.

Only a 210 numbered bottles will be available (€119/70cl), exclusively from La Maison du Whisky.

"This is the first time AnCnoc has released a single cask - and what better reason than to commemorate this landmark anniversary for La Maison du Whisky," said brand manager Stephanie Allison.

Earlier this year, AnCnoc teamed up with Edinburgh-born fashion designer Patrick Grant to release Blas, a limited-edition Highland single malt.