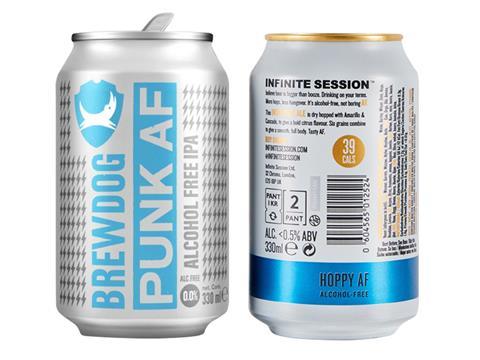 Alcohol-free craft brewery Infinite Session has accused BrewDog of copying its use of the abbreviation 'AF' on the upcoming alcohol-free version of its Punk IPA beer.
BrewDog revealed last week plans to release a 0.0% abv version of the bestselling IPA, called Punk AF - an abbreviation for 'alcohol-free' and 'as f**k'.
But Infinite Session founder and CEO Chris Hannaway argued the abbreviation 'AF' "features on all our packaging and in our logo".
"We've got it very prominently on all of our packs", he told The Grocer, arguing the proposed Punk AF can used the abbreviation "exactly in the same context".
He claimed his brand had been the first to use 'AF' to denote 'alcohol-free' and play on 'as f**k' at the same time. Infinite Session's beers include slogans such as 'Crisp AF', 'Hoppy AF' and 'Fresh AF'.
Infinite Session did not own a trademark for 'AF' in relation to alcohol-free beers but would explore what legal options were available, he said.
"We sit next to them on the shelves in Tesco and they know full well about our brand."
BrewDog declined to comment when approached by The Grocer.
This isn't the first time BrewDog has run into controversy around intellectual property issues.
It became embroiled in a row with the Lone Wolf pub in Birmingham in early 2017, when its lawyers claimed the pub had infringed a trade mark of its recently-founded spirits arm.
However BrewDog backed down after the case became public, apologising and inviting the pub's owners to make their own gin at BrewDog's Aberdeenshire base.
Last year BrewDog won a trademark appeal over the name of its Elvis Juice IPA. It had previously been told to change the name of the beer after the estate of Elvis Presley claimed it could mislead consumers into thinking the late rock star's estate had endorsed the beer.
Yet it was overturned after BrewDog's appeal, when it was ruled the two marks were too different for there to be a direct confusion.