Britain is hitting the bottle. We've spent £400m (5%) more on the UK's 100 biggest alcohol brands in the off trade [Nielsen 52 w/e 26 April]. And this growth isn't merely inflationary; we've knocked back 70.3 million (3.3%) more litres of branded beer, cider, spirits, RTDs and wine combined.
Of course this doesn't mean we've all been blotto for the past year. While some high-strength brands did surprisingly well - value and volume are up for Skol Super (103) and K (134) - some weaker drinks are absolutely flying: sales of low or no-alcohol lagers and ciders surged 78%. This, and generally higher prices across the top 100, has pushed the cost per unit of alcohol up 3.3%.
"Ales, lager and cider saw a huge spike in the scorching weeks last summer. The average number of units sold rose 49%"
Inevitably, the performance of the top 100 was influenced by the longest, hottest heatwave in six years, last summer, which sent sales surging. Pimm's (59) has grown 23% on volumes up 15.2%, thanks in no small part to the hot spell last July. Budweiser (6) enjoyed the greatest gain among the lagers, growing £10.9m (15.5%) in the three months to 27 July alone. In this period the 20 biggest brands in lager, a sector in decline for years, enjoyed a £37.7m (5.3%) fillip.
And here's the rub: if the weather is to thank for the market's apparent return to form, maintaining growth over the coming year will be a tall order, especially in light of England's early exit from the World Cup and the inconsistent weather of late. So is the market in as good shape as the growth suggests? What other factors beside the weather are influencing the category? Who's basking in glory and who's been burnt?
Read the full list of Britain's Biggest Alcohol Brands 2014 - with details on each brand
As our analysis - in partnership with Nielsen - shows, a year ago the situation was much bleaker. Value was flat at £8.2bn; volumes had sunk 2.8% [52 w/e 27 April 2013]. According to some retailers, last July's heatwave had a greater impact on the return to form than our figures show. "Ales, lager and cider saw a huge spike in the three scorching weeks last summer," says Co-operative Group beer & cider buyer Michael Schofield. "The average number of units sold increased 49%."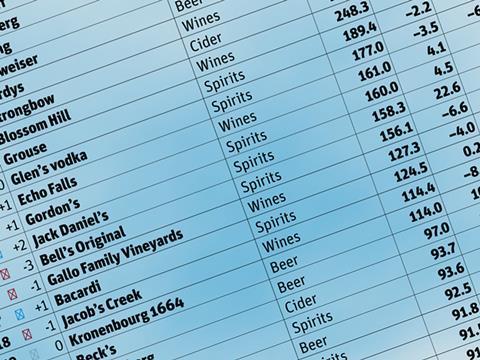 That a retailer with a large convenience estate saw such strong growth is significant, suggests Chris Quinn, director for multiple retail sales at Bibendum Wines. "Certainly for the big brands, convenience and online are driving big growth," he says. "Rather than doing the big weekly shop, consumers are buying less, more often."
Particularly when it comes to picking up a bottle or two on the way home from work, say brands. Analysis of the three-month period covering last summer's heatwave (see p33), reveals that of the country's biggest beer and cider brands, Desperados (88) and Rekorderlig (74) enjoyed the greatest percentage gains, the former up 209.3%; the latter up 106.4%. Both brands were doing well long before the mercury began to rise. Across the full year Desperados (88) up 107.4%, and Rekorderlig, up 65.4%, have realised the two strongest rates of growth, thanks to the rising popularity of spirit beers and fruit ciders respectively.
Other big winners of the summer include San Miguel (30) and Peroni (23) - though both were already in strong growth thanks to the continuing popularity of premium world lager - and Foster's (2). Again, there's more to Britain's second-biggest drinks brand's growth than the weather: of Foster's £14.3m growth, £3.2m came from the core lager; £2.6m came from Gold; £8.4m from Radler.
The triple-digit growth of Foster's Radler, a 2% abv fruit beer launched February last year, is reflected elsewhere. Carlsberg's (4) 2.5% abv Citrus offering, launched the same month as Radler, is the only Carlsberg variant in growth, having racked up £7.3m.
The weather alone, then, isn't enough to drive growth; promotions, merchandising and NPD have all been essential.
Just look at Pimm's (59). While it's no surprise a brand marketed as the 'perfect summer drink' did well in a heatwave, Pimm's boosted its appeal with a new variant. "The sun always plays a big part, but Blackberry & Elderflower has been an amazing success," says Diageo off-trade sales director Guy Dodwell. Of Pimm's £7.6m growth, £5.6m came from the new variant, launched in April last year. "The growth has been down to consumers enjoying a twist on classic Pimm's, fantastic execution in-store and new listings."
Deal activity
During last summer's heatwave, several beer and cider brands stepped up deal activity. As a result, average prices for a number of the big brands fell during the three months to the end of July: Carling's average price dropped 4.3%; Kopparberg's 3.5%; Stella Cidre's 3.4%. All enjoyed a strong summer.
Who's In
▲ 65.4%
74 (107) Rekorderlig
▲ 39.9%
83 (102) Tyskie
▲ 107.4%
88 (136) Desperados
▲ 19.8%
93 (101) Berberana
▲ 20.5%
98 (108) Gordon's rtd
▲ 25.6%
100 (113) Thatchers
Who's Out
▼ -5.4%
104 (98) Glenmorangie
▼ -25.6%
106 (86) Gran Familia
▼ -13.3%
112 (100) Grolsch
▼ -18.4%
115 (97) Miller
▼ -25.2%
122 (96) Red Square
▼ -59.9%
138 (71) Canti
Price is clearly still huge for the consumer, particularly for mainstream beer. While the core Carling (5) lager has enjoyed steady growth, thanks in part to a fall in average price, sales of 2.8% abv Carling Zest Citrus have failed to benefit from the overall growth in low-abv fruit beers, remaining flat on volumes down 6.9%, as its average price per litre has risen above those of rivals Foster's Radler and Carlsberg Citrus.
See number one brand Stella's less-than-stellar performance for more evidence of the mainstream lager drinker's continuing price sensitivity. You have to delve deeper than the annual figures for the total brand, which show growth of 0.7% on volumes up 1.7%. During the first half of the year, Stella 4 achieved 16.2% value growth as average price fell 4.1%. Meanwhile, core Stella remained more or less flat until the three months ending 26 April 2014, when value picked up 6.4% on volumes up 10.5%.
While it's conceivable TV ads for Stella over Christmas may have played a part (although both Stella lagers declined in the three months to 25 January), the core Stella's rally in the final quarter appears to have been driven by a 3.7% fall in price, the only reduction for the brand in the year (although this year's late Easter has flattered year on year comparisons too). It seems in the absence of the NPD and big ad campaigns of rivals such as Foster's, drinkers are only prepared to pay so much.
Blended whisky is equally price-sensitive. The Famous Grouse (10), which overtook Bell's Original to become Britain's biggest whisky brand last year, has seen its growth falter as it has been undercut by rivals such as Whyte & Mackay (36) and Grant's (24), whose average price remained more or less flat at £17.78 a litre and dropped 2.1% to £17.73 respectively. Grouse's, on the other hand, has climbed 3.5% to £18.68.
Fierce price promotions, particularly in the run up to Father's Day 2013, played a key role in Grant's growth, explains William Grant's off-trade sales director Andrew Clifton. "Father's Day is traditionally the time of year when we sell a lot of blended whisky. In 2013 the blended whisky market was selling around the £10 point (70cl). This year it went up to around £11/£12, so the price of Grant's has now gone up significantly."
Jack Daniel's (14) 22.6% growth on volumes up 25.9% is also partly down to price promotions. "Jack Daniel's had an extremely strong Christmas in 2013, driven by strong promotional activation across the family of brands and excellent visibility in-store," says Bacardi Brown-Forman's American whiskey trade marketing manager Crispin Stephens.
But, of course, it's not all down to price: BBFB says the Jack's Birthday campaign, which runs alongside music gigs through September, and the continuing growth of Tennessee Honey, have also been central to Jack's success. Tennessee Honey, launched in the UK in May 2012, contributed £10.6m to Jack's overall £29.2m growth.
Polarisation of the market
Such premium NPD illustrates the continuing polarisation of the drinks market. Take the launch last August of Smirnoff Gold . The cinnamon-flavoured variant contains 23 carat gold leaf and has fetched an average of £26.38 a litre compared with the £18.85 average across the Smirnoff (3) portfolio. "Consumer demand for premium vodkas continues to grow," says Diageo's Dodwell, pointing to Cîroc Vodka as another case in point.
"Cîroc is the fastest-growing super-premium vodka in the UK with flavoured vodkas helping to drive this trend. Cîroc flavours have particularly performed well in the off-trade, where we've seen Cîroc Coconut nearly triple its value share of total vodka, and Cîroc Red Berry gain nearly a 1% share of total vodka over the last 12 weeks."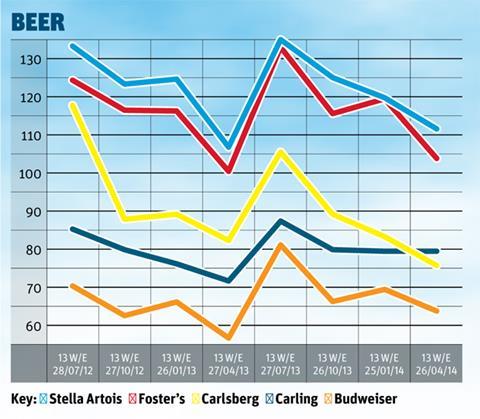 A push to the posher end makes perfect sense in light of the fierce competition at the cheaper end of vodka. Russian Standard (28) has enjoyed 42.6% growth, thanks partly to featured space promotions that have seen its average price stay more or less flat at £17.73 a litre (in comparison, Smirnoff Red Label's average price has risen 3% to £18.70 a litre).
Expect even fiercer price competition as William Grant's plans for Green Mark (133) vodka unfold. Green Mark is already cheaper than any of the top 100 vodkas at £16.88 a litre. And it could well get cheaper.
"Green Mark operates in the area of Smirnoff Red Label," explains Clifton. "We've moved the abv from 40% to 38% - we've sold through the remaining stock of 40% abv in the past few weeks and are rolling out the 38% for two reasons: for the taste profile and because it allows us to get the right price point, giving retailers an attractive margin and allowing them to compete with the discounters."
The Original variant of Baileys (22), which has seen sales fall 2.9% on volumes down 2.3%, has also found the going tough. That Sainsbury's chose to promote its Taste the Difference Irish Cream during the key Christmas period, rather than Baileys, surely had an impact, although the brand's first TV campaign in five years helped mitigate the loss. But all is not lost: the October launch of Baileys Chocolat de Luxe is yet more proof of polarisation and of brands offering higher margins with more premium products. The variant, which comes in 50cl as opposed to the standard 70cl and contains 15% abv rather than Original's 17%, has racked up £5m since launch. Crucially, on average de Luxe has fetched more than double the price per litre of Original, selling for £30.71 compared with £15.18 for Original.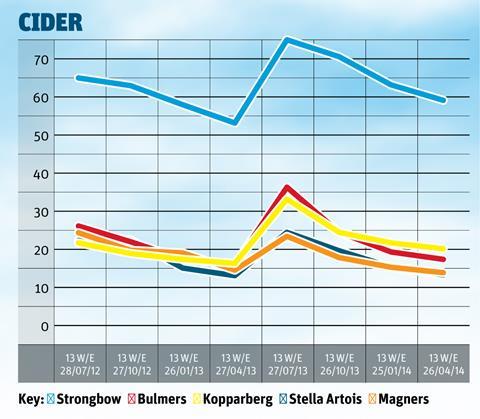 The astronomical growth of fruit ciders is further proof of premiumisation. The average price of the 10 ciders in this year's top 100 was £2.20 a litre. Rekorderlig and Kopparberg (21) fetch £3.79 and £3.63 respectively, justifying their higher prices with a steady flow of exotic NPD - the former having launched a passion fruit variant in March last year, the latter Cloudberry and Elderflower variants last month - and slick marketing aimed at younger drinkers, who are prepared to pay considerably more for the right product.
The most successful launch of the year, Strongbow Dark Fruit, falls into this category. Since launch in June last year, Dark Fruit has racked up a massive £32.7m. That's almost double the combined sales of all other top 100 NPD of the past year combined. Dark Fruit, which carries a 19.4% premium over the rest of the Strongbow (8) portfolio and was the subject of a summer-long ad campaign last year, is the only Strongbow variant in growth.
These fruit ciders are luring drinkers away from wine with the promise of exotic variants, sweeter flavours and lower abvs. "Wine is in decline as younger drinkers under 25 turn to lower-alcohol, fruit-based ciders, craft beers and pre-mixed cocktails," says Bibendum's Quinn. "Meanwhile low-alcohol wine is still very much a work in progress."
Indeed. Nielsen figures for the two years to 21 June show the market for wines at 5.5% abv or below has slumped 5.6% to £36.8m on volumes down 11%. Brands such as First Cape (43), down 25.8% in value, have borne the brunt of this decline: its Café Collection line-up of low-abv wines is down 58%.
Intense competition from own label and retail exclusive wine brands (not covered in this report) has also weighed down the performance of Britain's biggest wine brands, although some have managed to buck this trend with big investment and a move to more premium offerings. Hardys (7) is a case in point, its 8.9% value growth on volumes up 3.6% coming off the back of a £10m investment aimed at playing up quality cues, a packaging redesign and a three-year sponsorship deal with England cricket.
Investment like this could well keep Britain's biggest alcohol brands growing. Whatever the weather throws at them.
Read the full list of Britain's Biggest Alcohol Brands 2014 - with details on each brand
Methodology: Britain's 100 Biggest Alcohol Brands uses data from Nielsen's ScanTrack service, which monitors weekly sales from a nationwide network of EPoS checkout scanners plus some manual audits. Coverage is taken from grocery multiples (including their dark-store sales), co-ops, multiple off-licences, multiple forecourts, convenience multiples and symbols. The data is for the period MAT to 26 April 2014. Sales figures include all variants for the total brand within a given category (beer, cider, wine), ie Stella Artois includes 4% and Stella Artois; while Stella Cidre is counted separately and includes all fruit cider variants. Still, sparkling and fortified wine all come under the category 'Wines'. Ones to Watch comprises the 10 brands ranked between 101 and 150 in Nielsen's database posting the biggest value sales growth. Copyright: Report compiled by Nielsen, exclusively for The Grocer/William Reed Business Media. No reproduction in full or in part for commercial purposes is permitted without prior consent of Nielsen.