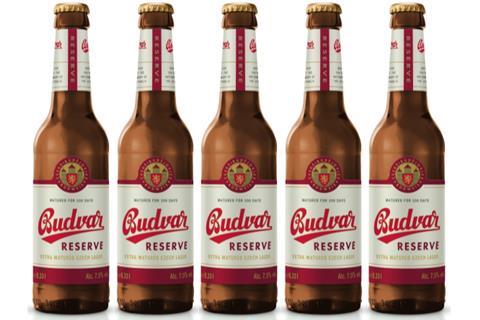 Budweiser Budvar is relaunching its upmarket 'Strong' 7.5% beer as Budvar Reserve.
The beer is billed as a "unique and complex", and is matured for 200 days prior to bottling at the brand's brewery in South Bohemia. It is made with Moravian malts, whole-cone Saaz hops and soft water from a 300-metre-deep well under the brewery.
It will roll out to independents and specialists in 330ml bottles, as well as to the on-trade when pubs and bars reopen (rsp: £2.45).
The new bottles contain updated branding from Budvar's 2020 rebrand with the description "extra matured Czech lager".
It was "a special, strong, cellar-aged beer that really showcases the brewing traditions and dedication to taste and quality we've stayed true to at Budweiser Budvar for 125 years", said Budvar brewmaster Adam Brož.
"No other brewery in the world could make this beer because it requires the very best Czech ingredients, and huge amounts of time and cellaring space – making it expensive to create.
"But being independent and owned by the Czech people means we can brew our beer in the same way we always have, with the same focus on time and flavour."