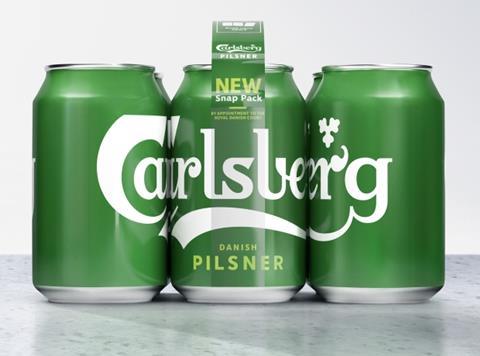 Carlsberg is completely changing the recipe of its core lager, The Grocer can reveal.
The Danish brewing giant has re-brewed its long-standing 'green' pilsner, with a new version of the beer to roll out from March, replacing the existing lager, which will no longer be produced.
It is unclear if the brand will continue to be sold in 440ml cans, as Carlsberg is focusing its efforts on promoting a new 330ml format. It is understood its alcohol content will remain the same.
Its rollout will be accompanied by the massive rebrand first revealed to be in the works by The Grocer last year, as well as Carlsberg's biggest-ever marketing campaign, which will centre on the idea of going back to the brewer's roots.
It is yet to be revealed whether the wholesale price of the brand will be affected.
Six-packs of the new beer will be held together with the sustainable 'snap-pack' glue it has already applied to Export's packaging, as part of the brand's efforts to crack down on plastic waste and ramp up sustainability in its brewing.
It is the latest in a series of massive upheavals for Carlsberg's two biggest beers - pilsner and Export - designed to combat steeply falling sales over past years. Value sales of Carlsberg and Carlsberg Export fell from £206.7m and £82.9m in 2015 to £111.6m and £52.2m respectively in 2018 [Nielsen 52 w/e 10 October 2015 vs 8 September 2018].
Export was the first to be rebranded, benefiting from a completely new look and a £15m push in 2017 playing up its Danish heritage.
Speaking to The Grocer at a press conference in Copenhagen in September 2018, Carlsberg's global brand director called the slew of changes a "journey towards premiumisation" that would "add value to the brands" and "encourage reappraisal".